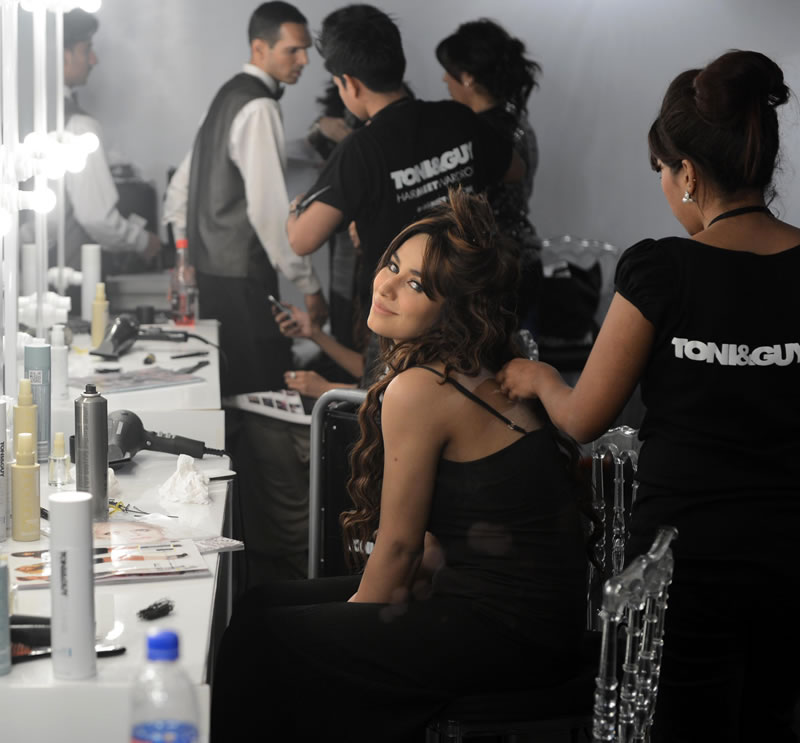 At Fashion Pakistan Week A/W 2012 Toni & Guy was setting new trends. Saeeda Mandviwalla of Toni & Guy Karachi can be seen at work in her Secret Room inside the general green room area prepping and styling the hair for the first show each day.
Toni & Guy is renowned as an innovator within the global hair industry. A British brand with a strong heritage in both High Fashion (London Fashion Week official sponsor since 2004) and High Styling, Toni & Guy firmly bridges the gap between the two. The end result is that magic moment showcasing the Hair Meet Wardrobe philosophy.
The buzz in that room is all about the stylish new products that will be available in the Pakistan market early next year. Using those very same products from the Classic, Casual and Glamour ranges, Pakistan's top models were given different looks that would accentuate and enhance the design philosophies of the 3 designers.
Sonya Battla's Classic look on Day 1 was very twenties flapper and Anna Wintour inspired with strong looks and asymmetrical fringes, followed by mid length and bold fringes, ending dramatically with long, shiny, sleek hair with different shapes.
Sanam Choudhri's Kage (ka-geh) Collection called for all the hair away from the face and a knot like effect on the top. Variations of the top knot, textured with sleek sides, were sent down the runway by Saeeda who used products from the Toni & Guy Casual range. The sleek and graphic look was inspired by the effect of the Harajuku girls and created to accentuate the oriental concept.
Maheen Karim's military inspired evening wear was sophisticated and glamorous from the word go. Here glamour met retro chic. This vintage beauty revival is a full on affair with dolly eyelashes and a tanned complexion with beehives and winged eyeliner.
Inspired by those ultimate Bond girls Bridget Bardot and Ursula  Andress the looks for this collection, using products from the ultra luxe Glamour Range, will be modern big hair ups and beehives, high french rolls in the front and pony tails or waves, ending with big curls and long loose hair. The ultimate rich, spoilt daddy's girl is now ready for her big night out.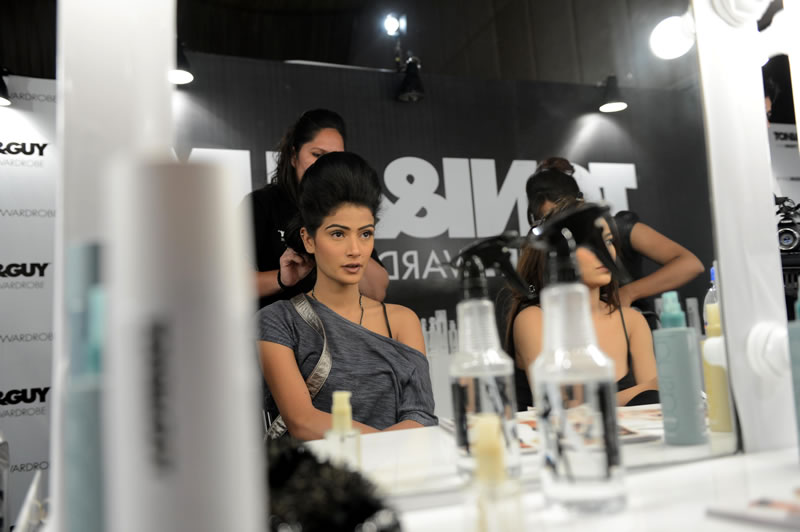 The looks were pre decided in a series of consultative meetings between the designers and Saeeda Mandviwalla. The Hair Meet Wardrobe (HMW) philosophy of was intrinsic to each look. With Unilever Pakistan promising to bring the latest styling products to the Pakistan market this was the perfect opportunity to give a select band of models and designers an early preview of latest trends that could be created. Fashion Pakistan Week was off to a flying start.