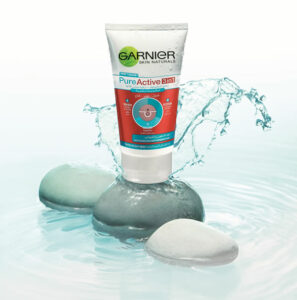 After the successful launch of their unique all-in-one makeup and skincare product Garnier SN BB Cream, leading hair and skincare brand Garnier further broaden their product portfolio with the introduction of their new Garnier Skin Naturals Pure Active anti imperfections product range of natural skin cleaners for young women. The new product line comprises of a 3 in 1, Scrub and Gel Wash variations to help keep your skin cleansed and free from acne marks and other imperfections.
In keeping with the brands' commitment to take care of Pakistani women, the latest Garnier Skin Naturals cleansers provides a diversity of skincare options, to suit individual skin types, with a maximum strength formula including herba-repair with one of a kind regenerative and repairing properties and salicylic acid, an exceptional antibacterial active.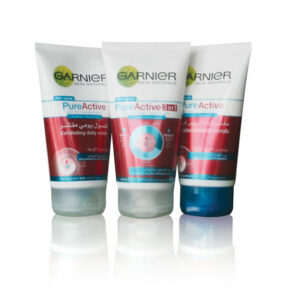 The Garnier Skin Naturals Pure Active not only cleanses, but its purifying salicylic acid and herba-repair formula work actively against blackheads while exfoliating the skin to prevent the outbreak of acne. The 3 in 1 works as a deep wash purifier, a scrub which unclogs pores and a mask that mattifies the skin. The Scrub works as an anti-spot and anti-mark protector for skin that is particularly prone to acne and blackheads. The Gel Wash protects against the excess accumulation of oil on skin and reduces the likelihood of impurities on skin that is prone to excess oil and imperfections.
Speaking about the launch of the Garnier Skin Naturals Pure Active Range, Moazzam Ali khan – General Manager CPD division said, "As a brand, Garnier firmly believes in the philosophy of Taking Care. Our latest exciting range of face care products, launched under the umbrella of Garnier Skin Naturals Pure Active, comprises of a face wash, a facial scrub and a patented 3 in 1 face care solution, which allows us take even better care of our young, female audiences, who wish to actively protect themselves from acne and other skin related ailments. We hope that the product range will resound well with our discerning consumers, who like Garnier, value quality, results and budget."
All products in the Garnier Skin Naturals Pure Active Range are available in the 2 stock keeping units of 100ml and 50ml packs, priced affordable at PKR 449 /- for 3 in 1, PKR 399 for Scrub and PKR 349 for Gel Wash. Perfectly suited for young and skin conscious university and college students who seek to limit the onset of acne and keep their skin luscious and blemish free. The new Pure Active range is now available at all leading stores across the country. – It's all about taking care.