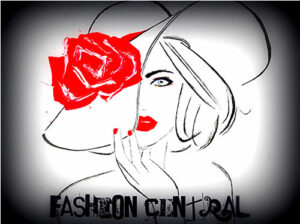 It is a trend that is introduce by upper society & we are followers. "Fashion is made to become unfashionable" (Coco chanel)
History of fashion.
The earliest fashion show held in the 1800s, "fashion parades" periodically took place in Paris couture salons. American retailers imported the concept of the fashion show in the early 1900s. The first American fashion show likely took place in 1903 in the New York City store Ehrlich Brothers. By 1910, large department stores such as Wanamaker's in New York City and Philadelphia were also staging fashion shows.
These events showed couture gowns from Paris or the store's copies of them; they aimed to demonstrate the owners' good taste and capture the attention of female shoppers.
By the 1920s, retailers across the United States held fashion shows. Often, these shows were theatrical, presented with narratives, and organized around a theme (e.g. Parisian, Chinese, or Russian).These shows enjoyed huge popularity through mid-century, sometimes attracting thousands of customers and gawkers.
In the 1970s and 1980s, American designers began to hold their own fashion shows in private spaces apart from such retailers. In the early 1990s, however, many in the fashion world began to rethink this strategy. After several mishaps during shows in small, unsafe locations, "the general sentiment was, 'We love fashion but we don't want to die for it,'" recalls Fern Mallis, then executive director of the Council of Fashion Designers of America.
In response to these shows, the New York shows were centralized in Bryant Park during fashion week in late 1993. Lately from the 2000 to today, fashion shows are usually also filmed and appear on specially assigned television channels or even in documentaries.
Difference between old and new fashion:
New fashion is created and marketed to make you spend money. By the same process old fashion is merchandised as 'bad' to make you want new products. Make a statement and wear the cloths that you like not the ones that are fashionable.
10 Positive effects of fashion industry.
We can argue whether or not the fashion industry has more of a positive or negative effect on people of today, regardless we can agree that the fashion industry has grown to become very popular and influential. It seems as if everyone is trying to pursue a career in this field. Here are 10 positives of the fashion industry.
1. New designs:
Designers are able to create new designs for those people who
2. Discovering new talents:
It is always a refreshing to see a new and creative designer come into the spotlight. Fashion is a very competitive industry and at times trends are duplicated. So it is nice to see an up and coming designer bring something new and different to the table.
3. Inspiration:
Fashion inspires others to be creative and to want to build a career from it. There is an inspiration in fashion to influence you to be different.
4. Freedom of expression:
Fashion is one of the ultimate way to express yourself. One of the first impression people have of you is from your appearance. But one of the great aspects of fashion is that you are free to be whoever you want to be with your choice of fashion. With fashion you have that ability to mix and match wardrobes according to your mood, attitude and feeling.
5. Connected:
The world is huge, filled with diversity and culture. Fashion is like one language that everyone can understand. It connects people internationally because fashion travels from city to the next.
6. Attraction:
People stays stylish and fashionable to attract the opposite sex to get noticed by someone they like. With the help of fashion you can look the part and get acknowledge.
7. Popularity:
Fashion is one of the most popular items to purchase and one of the most popular topics spoken about on television. With their popularity they can influence many people.
8. Trends:
Fashion is endless! Trends comes from ideas, designers and the streets, there is always some new trend in development that can potentially become a classic like the little black dress (LBD).
9. Opportunities:
Fashion is not only dressing up and making clothes, you can build many careers from a fashion degree. The fashion industry opens numerous of doors for people whether you are interested in being in front of the camera, behind the camera or styling and making the garment. The possibilities are truly endless.
10. Discrimination is not evident:
The world of fashion is so diverse, discrimination is not evident. The way you dress is what people view you as.
"It's a new era in fashion – there are no rules. It's all about the individual and personal style, wearing high-end, low-end, classic labels, and up-and-coming designers all together."  —  Alexander McQueen….