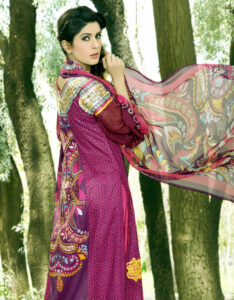 Following the launch of Madham Vol.1 in May 2013, renowned textile brand Lala Textiles' is set to launch Madham Vol.2 by Lala on Tuesday,11th June 2013.
Indeed, Lala's latest collection Madham Vol.2 is an extension of the acclaimed Madham series and focuses on traditional elements incorporating traditional Kashmiri & Islamic embroideries through bold crashing hues. A combination of lawn, satin & chiffon, Madham Vol.2 features vivacious floral colour-ways in 8 different designs. Madham Vol.2 will be available at all leading stockists across Pakistan from Tuesday 11th June onwards.
On Lala Textiles' launch of Madham Vol.2, Pervez Lala – CEO of Lala Textiles said "With the nationwide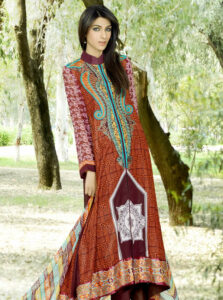 launch of Madham Vol.2, we are providing Lala enthusiasts an option to create their own designs and incorporate custom add-ons such as satinpatti , neck embroidery, patches, laces, bunch and back moti's."
Having started as a trading house in Pakistan in 1947, the Lala Textiles brand launched its first retail label in 1972 and has today grown to encompass seven diverse retail brands providing accessible summer; mid-summer and winter fabric ranges; these include lines such as Vintage, Sana & Samia, La Femme, Kesa, Brocade, Khaddi & Lala Classic.