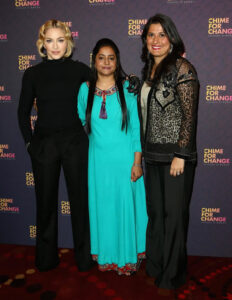 Academy Award Winning Filmmaker Sharmeen Obaid-Chinoy participated as a presenter representing Pakistan in 'The Sound of Change Live' concert, presented by CHIME FOR CHANGE, recently founded by Gucci, which campaigns for improved Education, Health and Justice for women and girls worldwide. The four-hour concert, which took place at Twickenham Stadium – London on Saturday 1 June, 2013 was supported by an impressive line-up of world-class artists and internationally renowned presenters, lending their voices to CHIME FOR CHANGE, and will be aired in over 150 countries across six continents reaching up to one billion people.
At this concert, CHIME FOR CHANGE also presented an exclusive one-minute screening of SOC Film's first international undertaking, a short documentary titled 'Humaira: The Dream Catcher'. The documentary was introduced by International music icon Madonna, who has also done the voice-over for the film. Madonna later invited Sharmeen Obaid-Chinoy and Humaira Bachal on-stage where Humaira shared her journey with the audience.
CHIME FOR CHANGE Co-founder and Artistic Director, Beyoncé Knowles-Carter also performed a 45-minute special set and led the star-studded line-up of performers including Florence + the Machine, HAIM, Iggy Azalea, Jennifer Lopez, John Legend, Laura Pausini, Rita Ora and Timbaland.
The line-up for 'The Sound of Change Live' concert included:
Madonna, Beyoncé, Sharmeen Obaid Chinoy, Jennifer Lopez, John Legend, Aishwarya Rai Bachchan, Archbishop Desmond Tutu, Blake Lively, Ellie Goulding, Florence + the Machine, Freida Pinto, Gloria Steinem, Frida Giannini, Salma Hayek Pinault, HAIM, Humaira Bachal, Iggy Azalea, Jada Pinkett Smith, James Franco, Jessica Chastain, Laura Pausini, Leymah Gbowee, Mpho Tutu,  Rita Ora, Timbaland and Zoe Saldana.
Speaking about her participation at The Sound of Change Live concert Sharmeen Obaid-Chinoy has said, "Education transformed my life that is why the Chime for Change campaign is something i strongly believe in. The Sound of Change Live concert is a project that I am so proud to be a part of. It will help women in numerous fields like education, health and justice."
Beyoncé Knowles-Carter said: "I am really happy that so many amazing artists and presenters have come together to support CHIME FOR CHANGE on 1 June.  Our goal is to have a great time together while we unite and strengthen the voices of girls and women around the world."
Madonna, founder of the Ray of Light Foundation, said, "60 percent of the children in the world NOT in school, are girls! 2/3 of the world's illiterate are WOMEN! I Do NOT accept this. We need to change this and we WILL CHANGE THIS!"
At 'The Sound of Change Live' concert, Sharmeen Obaid-Chinoy wore a Misha Lakhani creation paired with a custom-designed bag by Mahgul for Nasreen Shaikh.
CHIME FOR CHANGE is led by a founding committee comprised of Gucci Creative Director Frida Giannini, Salma Hayek Pinault and musician Beyoncé Knowles-Carter.