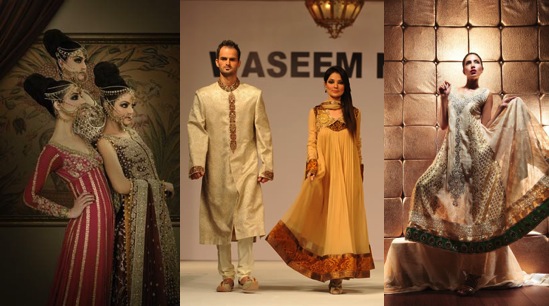 Waseem Noor
Waseem Noor has been taking part in Pakistan Fashion Week in London presented by Riwayat for the last 2 seasons and is also going to showcase the haute Couture and Bridal collection in the upcoming PFW4 on the 8-9 June.
Pakistan Fashion Week is playing an important part in showcasing the talents of the fashion designer and promoting them. It is getting bigger and better with their experience of the past seasons.

Sara Rohale Asghar
Showcasing her collection 'Tehzeeb-E-Baymisaal' at PFW4 on June 8-9 2013 is Sara Rohale Asghar. The inspirational comes cultural aspect of Asian (Pakistani) weddings, their colours, ethnicity, customs and traditions. Graduating from College in 2006, Sara started working with the brand MEERAS.
The brand gave Sara an opportunity to work in Paris with the brand in 2007. As she developed her own style and client base, Sarah created her brand with commercial clients in Pakistan. Her collection became available at P.F.D.C (Lahore) and L' atelier (Islamabad) in luxury Pret while she also pursues personal appointments for brides.