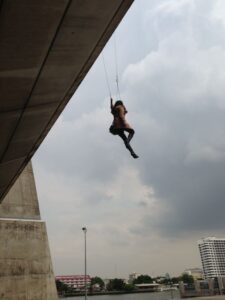 Humaima Malick, the actress who rose to fame after her BAFTA award winning performance was recently seeing something very courageous and brave during her shooting of Samsung Mobil advertisement in Thailand.
Samsung mobiles are one of the most esteemed mobile companies in the world and Humaima is the first Pakistani female actor to represent a mobile company on such a large scale.
The commercial which was based on a scene from Angelina Jolie's popular movie "Tomb Raider" required the actress to perform certain action stunts. Humaima was given the choice to use a stunt man for the action scenes but actress refused and decided to do all her stunts herself. It was a brave initiative on Humaima's part as not many actresses opt for the option of doing their stunts themselves.
It would surely be interesting for Humaima's growing fan base to see her in an action commercial!! We look forward to seeing her in the Tomb Raider style and action, which many predict will suit her well.