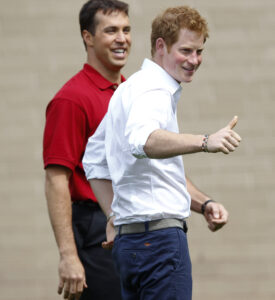 Prince Harry is currently in the middle of a tour across America for a brief visit. During his tour, he visited a school in Harlem, New York and also surveyed areas devastated by Hurricane Sandy.
As per the occasion, Prince Harry chose a more casual look rather than a formal suit and tie as he made his rounds and greeted fans and well-wishers, opting to wear a pair of navy blue Dockers® Alpha Khakis teamed with a classic white Oxford shirt – a perfect combination.
Looking stylish and elegantly sophisticated in what has definitely become the "must have" khaki pant, Prince Harry is no stranger to fashion, often making the lists of the "Best Dressed" in England, across Europe, and in America.
The Dockers® brand is fast becoming a royal favorite having been seen worn on the likes of Peter Phillips and Lord Frederick Windsor, the Royal Prince's cousins.
And can we expect to see his older brother HRH Prince William wearing a pair of Dockers® Alpha Khakis anytime soon? Since royalty has generally seemed to take a liking to them, probably yes!