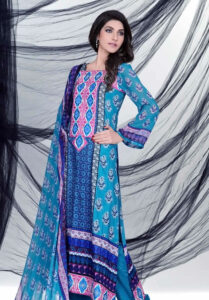 Following the recent launch of Madham Vol.1 by Lala, the renowned textile brand is set to celebrate 60 Years of voile fashion excellence this June 2013, through the introduction of its latest exclusive Embroiderycollection Kesa by Lala. The new collection launched today, Wednesday 29th May 2013, and will be available at all leading retail outlets.
Indeed, Lala's latest collection Kesa by Lala will be available in 8 diverse designs based in a wide range of fabrics including velvet, organza, lawn, suede and chiffon. The aesthetic sensibility of Kesa by Lala features bright prints and blooming patterns such as Suzankari, Mehrab, Jahanara while incorporating Islamic Mosaic designs. The collection also encompasses a diverse spectrum of colours such as garnet, blue topaz, malachite and fire-opal accentuated by embellishments, panels and embroideries.
On Lala Textiles' launch of Kesa by Lala, Pervez Lala – CEO of Lala Textiles said "With our second collection to be released this month, Madham Vol. 1 by Lala being the other, Kesa by Lala marks Lala Textiles' 60th anniversary of meeting the growing demand of Pakistan's voile market. In order to commemorate this auspicious milestone, Lala will be engaging consumers in various activities across major cities in Pakistan along with further brand launches that fully represent Lala Textiles' signature design aesthetics."
Indeed, having started as a trading house in Pakistan in 1947, the Lala Textiles brand launched its first retail label in 1972 and has today grown to encompass seven diverse retail brands providing accessible summer; midsummer and winter fabric ranges; these include lines such as Vintage, Sana & Samia, La Femme, Kesa, Brocade, Khaddi& Lala Classic.