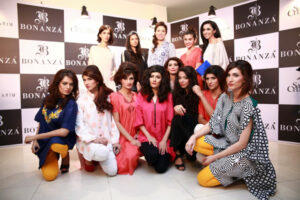 Bonanza has taken the initiative of bridging the gaps between designer wear and retail brands. The aim is to offer customers a great variety of designs from various designers under one roof with great affordability and wide accessibility – a rare combination in Pakistan. The idea of bringing designers and retail brand under one roof was brought to life by Catalyst PR & Marketing by introducing the young versatile designer Maheen Karim and the multi-talented Sanam Chaudhri to Bonanza Garments.
Maheen Karim, the versatile designer and a graduate from the prestigious Central Saint Martin's College of Art and Design. The collaborative label Maheen Karim Bonanza offers women everyday casual wear as well as formal. Maheen has specialized in western cuts and has already penetrated a vast market for western wear. She has optimized her work to deliver to this joint venture what it needs. The patterns of traditional wear are stitched together with contemporary forms to facilitate birth of new trends.
"The vision of Maheen Karim bonanza woman is strong, confident and stylish. She flaunts her femininity and has the power to move her world forward. Bring out the positive in yourself as you stand tall and dauntless in your Maheen Karim for Bonanza ensemble."
Sanam Chaudhri is a homespun fashion icon.  Each new line uncovers another side of her personal self as her artistry continues to evolve.  Whether classically refined East-Asian wear or nouveau urban chic, to wear a SANAM CHAUDHRI original is to know a slice of her story.  Karachi is where Sanam, her passion, and her career were born.
Having graduated with a degree in textile from IVSAA, Sanam garnered work experience of considerable value working as an interior designer for the highly reputed architect, Naheed Mashooqullah.  Deciding to branch into fashion, Sanam boldly launched her own label in 2008.  It was the Pakistani chain store LABELS that exhibited Sanam's maiden pret collection and in two short years, Sanam was already showing at Fashion Week Pakistan, 2010.
'Sanam Chaudhri for Bonanza' is an exciting collaboration into the world of prêt design."I believe in delivering more than just fashion-I deliver style. The new line projects a new stylized image, featuring new cuts, playful colours and prints designed specifically for the brand." Says Sanam Chaudhri
Bonanza has over 60 Exclusive Stores making it the most widely accessible retail store of Pakistan. In this fantastic partnership, Bonanza brings in the wide distribution, highly specialized manufacturing with Maheen Karim bringing in the design and creative element in the palette.
Hanif Bilwani, CEO of Bonanza, on the collaboration said "We have stepped in this collaboration to offer our customers designer wear under our roof as well making it far accessible and affordable for a common man. We will be launching this collection by the end of March. The collection will cater to every age group and occasion, ensuring the philosophy of Bonanza being a one-stop solution to all the clothing needs!"
Maheen Karim on this collaboration – "I am delighted to be working with a giant retailer like Bonanza. It's a household name with over 60 retail outlets all over Pakistan. Having worked in the west I believe that retail is the way forward for the Pakistani fashion Industry and what better manufacturer to work with than Bonanza! I do endorse their philosophy of being accessible across the nation and herewith, we will together bring designer ensembles to the high street. Women lead busy lives, with families, kids and work, they want to pick up a practical outfit easily and quickly. Together Bonanza and I will give the woman of Pakistan and abroad edgy, high fashion in affordable prices"
The "Bonanza Designer Wear Prêt Collection" will have a bit for everyone, shorter, smarter hemlines with flowy overlays as well as smart tunics hence making it suitable for every occasion – Casual to evening wear, this collection will be a part of your wardrobe in every way!
With this Collaboration, Bonanza opens up a world to endless possibilities; you never know they might offer a designer touch in all their vast product range in future.
The event started with the dazzling collection of Maheen Karim for which was followed by Bonanza "Satrangi" Collection. Afterwards models walked the ramp in the flowy designs of Sanam Chaudhri. Models lineup included Areeba, Monica, Mahi, Mubashira, Sidra, Noor, Abeer, Eqra, Manal, Nadia baloch, Sarah Khan & Saba Sikander. Make up was done by Mona J.
The event managed by Catwalk Productions was attended by a large number of designers and socialites including Sania Maskatiya, Mahin Hussain, Faisal Qureshi, Umari Tabani, Maha Burney, Nadir Feroz, Raana Khan, Ghazala Humayun, Mr. & Mrs. Asif Karim, Kiran Aman, Rukaiya Adamjee, Ayesha Hashwani , Abdul Samad and many more.