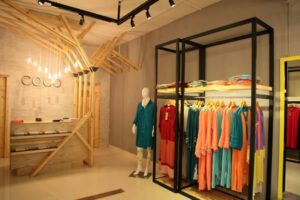 After having recently showcased their Asian floral inspired womenswear collection at the 6th PFDC Sunsilk Fashion Week, COCO launched their first standalone flagship store in Lahore on the 15th May 2013. The launch took place at Mall 94 which is one of Lahore's prime shopping destinations situated on Main Boulevard.
The store launch was attended by designers and socialites such as; Sara Shahid, Naila Ishtiaq, Naila Bhatti, Munib Nawaz and his wife, Saba of Nail Bar, Ali Xeeshan, Feeha, Mrs Rehman of Fatima Memorial Hospital, Amina Raja, Hamza Tarrar, CEO PFDC Saad Ali, Maheen Kardar Ali, Cybil Chaudhry, Bilal Mukhtar, Arjumand Bano, Saad Kureshi and Natasha Hussain. The event was managed by Savvy PR & Events.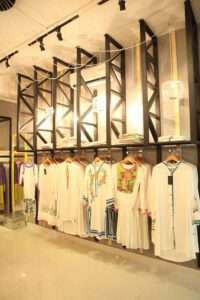 The store offers the brand's complete range of womenswear products, including their coveted "COCO Basics" line along with other new collections and a range of fashionable accessories, giving clients a diversity of choice in prices ranging from PKR 1,000 to PKR 5,000. COCO's  womenswear collection recently showcased at PFDC Sunsilk Fashion Week, is also available at the store. The High-street brand is also planning to launch COCO shoes and accessories by next month.
Speaking about COCO, Zara Shahjahan the Creative Head said, "The aim for COCO is to change how we look at high street fashion in Pakistan. We want the clothes to be hip, smart and wearable. We want the buyer to feel as good buying COCO as they would feel buying a luxury brand. We will follow trends of local and international catwalks.
With fashion weeks becoming bigger and better in Pakistan, we feel our masses are getting smarter when it comes to fashion. There is a lot of good competition here but we are not just another brand in so many. We want to be the best high-street brand in Pakistan".
COCO is a subsidiary of Fast Retail Apparel, a holding company which also manages premier designer label Zara Shahjahan and upcoming brands MEN Co. and COCO Home.