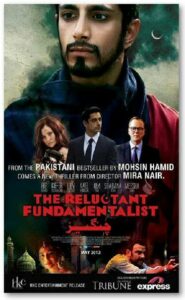 The famous writer Mohsin Hamid's and internationally acclaimed director Mira Nair's movie 'The Reluctant Fundamentalist' has been released with much appreciation and acknowledgments by the critics in U.K. The Guardian newspaper has reviewed the movie has given much acknowledgment not only to the writer but also to the director for her ability to project the story with audience interest.
The critics believed that the message itself is grasping, but at the same time Mira Nair's adaptation of Mohsin Hamid's novel is a bold piece of global storytelling
Director Mira Nair (Salaam Bombay; Monsoon Wedding) delivers an intense adaption of Moshin Hamid's bestseller. It tells of Changez, an ambitious young man whose identity pivots between a glittering stockbroker career in the Big Apple and his home culture thousands of miles away in Lahore, Pakistan.
Aggressive young gun Changez sums up everything his poet father detests about the West, as he lands a prize job at a firm specializing in the ruthless takeovers of ailing companies. Changez soon catches the eye of troubled trophy WASP princess Erica, who is intrigued by this 'exotic' man. Then, out of the blue, the World Trade Centre is destroyed, and suddenly Changez's Pakistani background and face suddenly don't fit.
Being strip-searched at US Customs is the first of his humiliations; and disenchantment with his new home, which forces Changez to reconsider who he is, draws him back to Pakistan and headlong into the unfolding conflict between the US military and Pakistani extremists.
Nair astutely treads the delicate fault lines between Western and Islamic worlds, supported by an impressive cast led by Riz Ahmed, with Kiefer Sutherland, Kate Hudson and Shabana Azmi. HKC entertainment is releasing the movie on 23rd May 2013 in Pakistan while Encyclomedia PR is handling its PR.