The pre-eminent way to platform your brand is to go out loud in an exclusive event that makes it to the news. Sunsilk Pakistan has kept that as their mantra for every fashion season and this time, it was a special treat.
Sunsilk Pakistan wanted to WOW the audience and make history like never before on the 6th consecutive prêt a porter Fashion Week 2013 with something DIGITALLY UNIQUE; something that has never been done before in Pakistan…
Pakistan's Biggest Fashion Show…Goes Invisible!
Sunsilk Pakistan, partnered with Walnut Media, stunned the celebrities and audience at the event with something they had never seen before – A Fashion Show only viewable with UV Glasses. Brainchild of Muhammad Adnan Butt, Director Walnut Media, it was the highlight of the pre-event activities as over 300 people passing through could not resist the temptation to have a look.
People were lured to come and see Pakistan's first Invisible Fashion show, after which they stood in front of the screen, wore the glasses and became part of the fashion show going on in front of them which only they could see while others were inquisitive as to what these people were seeing through the glasses and ooh-ing about. The content on the screen for all 4 days was the footage of the previous day and for the first day we used last year's content.
Designer Maria B said at the event: "This is truly awesome. The combination of technology and fashion is so next generation! I'm loving this!"
Speaking about this initiative, Adnan Butt says: 'We kept this for the event attendees. There is something equally exciting for the netizens too – On the last day of PFDC,  Sunsilk and Walnut Media exited the fanfare in style, giving one of their digital fans a complete 'Glamour Access'.
From a paid trip, accommodation in a five star hotel room, shopping spree, wardrobe, makeover to a complete red carpet experience; it was a once in a lifetime opportunity; a night to remember!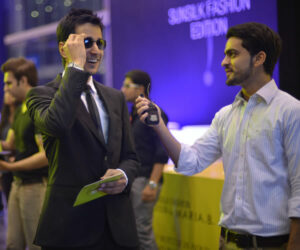 Maheera Nawaz was the winner for this one night of glitz and glamour and she enjoyed it throughly. From a hotel stay to being pampered, an all expense paid shopping spree and a complete makeover and red carpet experience. This lucky girl said: 'It was truly the chance of a lifetime. I didn't expect everything to be done for me but I got to do whatever I wanted, shop, dress, get styled. Being a fashion enthusiast, I loved being part of the Fashion world for one night. Thank you Sunsilk for this unforgettable memory!'
Not only this, Walnut Media along with Sunsilk Pakistan took full ownership of PSFW on Digital, streaming the show LIVE from the venue, for the people who can not attend it. Live status updates, images and newsfeed on www.sunsilk.com.pk kept 2.5 million netizens updated and engaged with the most happening event of the season.
Head of Operations at Walnut Media, Affan Iqbal, said 'We empowered our digital user to get the complete experience of the 6th PFDC Sunsilk Fashion Week while sitting at home. Not only did this allow us to showcase Pakistani fashion on an international stage, but it also allowed us the opportunity to provide a richer and more engaging fashion experience over the four days of the event. With the Sunsilk Fashion Week programme and an amazing line-up of Pakistani fashion talent, this year's event was truly an outstanding success.'
Adding to the excitement, Usman Shahid, Brand Manager Sunsilk Pakistan said: It was a great opportunity for us all, especially as a country, to promote the other face of Pakistan. We take pride in sponsoring this event and have done so every year. I'm really thrilled as we got an absolutely fantastic response not only on-ground but online as well!"