The Closing Ceremony of "The Professional Competency Enhancement Program for University Teachers" (PCEPT) under HEC NAHE Phase II – a project of Learning Innovation Division, was held on Monday May 6, 2013 at 1:30 p.m. in the Auditorium of Pakistan Institute of Fashion and Design (PIFD).
A group of 35 young teachers, 25 from the main campus and 10 from constituent colleges of PIFD (at Islamabad, Faisalabad, Multan, Peshawar, Quetta, Hala) have successfully completed this 24 days training program of HEC. 15 eminent Professors and Educationists from renowned Universities and Organizations were engaged as Resource Persons for this program. Prof. Ms. Shaista Vine, Registrar was the focal person /Course Coordinator of PCEPT.
Prof. Dr. Muhammad Khaleeq-ur-Rahman, Vice Chancellor, Government College University, Lahore, was the Chief Guest of this ceremony. Ms. Noor Amna Malik, Director General Learning Innovation Division of HEC, Islamabad was the Guest of Honour.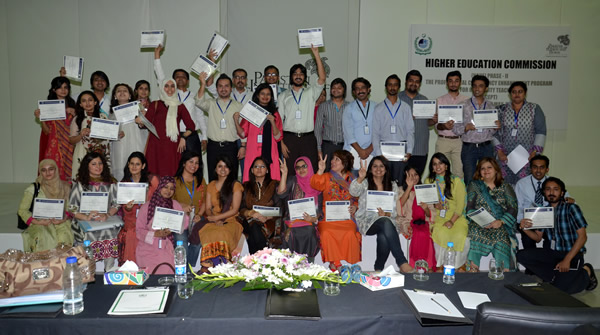 Ms.Bushra Jamil, Mr. Uzair Amjad, Ms. Sadaf Khalid Rana, Ms. Iqra Raghib and Ms. Abeer Tahir Dar shared their reflections about learning and participation experience during this training.
Certificates of participation were awarded to all the participants.