Fashion designer Monica is the applied art dedicated to the design of clothing and lifestyle accessories created within the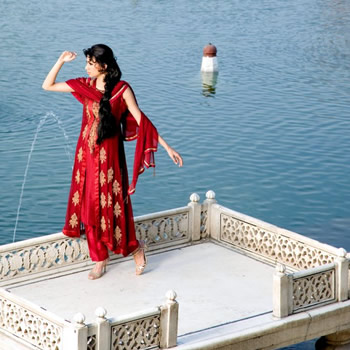 cultural and social influences of a specific time. Monica have brought about a storm in this glamour world with her commendably fab, She was recently has been invited to visit Korea's textile city Deagu by NEXFAIR.
Monica Paracha is the only designer from Pakistan who works with the collaboration of Korean arts and culture. After all the international success she has gave her 360 vision on Lahori fashion.
The Lahori culture is a blend of Middle Eastern, Persian, Central Asian and Western influences over the centuries. This is amply manifested in its lifestyle, festivals, literature, music, language, politics, cuisine and most of all taste in clothes.
No wonder Lahore is the fashion capital of Pakistan. It has a taste for brightness and diversity. Many of the top designers that lead the Pakistani fashion scene are from Lahore. Prominent ones are HSY, Monica Paracha, Hina Butt, Ayesha Khurram, Saira Rizwan, Bunto Kazmi and Saadia Mirza, to name a few. Some have made a prominent name for themselves on the international fashion scene as well.
Lahori Fashion industry is quite multi-dimensional. Lahore is certainly a trend-setter when it comes to fashion. Numerous fashion weeks are held in Lahore every year. Fashion models from Lahore are now making it to international catwalks. The fashion scene in Lahore is different when compared to the rest of Pakistan because their use of colors and cuts. The ability and willingness of Lahori designers to experiment with fusion is certainly outstanding. The cuts are portray a unique amalgamation of eastern and western styles. The rich history of Lahore certainly reflects in the outfits that are created by its designers.