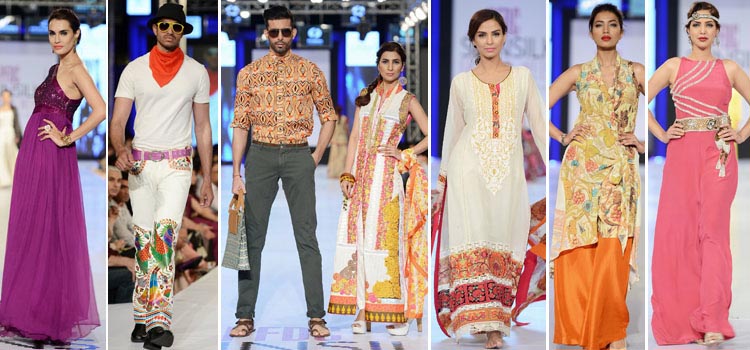 The Pakistan Fashion Design Council in collaboration with Sunsilk presented the third day of the sixth PFDC Sunsilk Fashion Week. In keeping with the objective of furthering fashion retail and synergizing high end design, textile manufacturers and buyers, fashion week includes ramp shows by leading retail labels as well as textile houses along with a fully functional, state of the art exhibition area. Day-3 featured four Voile Shows with eight designer prét-a-porter shows later in the evening.
On Day-3 of the PFDC Sunsilk Fashion Week, title sponsors Sunsilk unveiled an exclusively designed collectible shampoo bottle in collaboration with fashion designer Maheen Kardar Ali of Karma Pink, in addition to facilitating the red carpet, green room and backstage areas at the event. Leading skincare brand Pond's invigorated the red carpet with its Reveal Lounge which displayed a collection piece each from designers who will be showcasing their collections on Day-4 of PFDC Sunsilk Fashion Week. Associate sponsors ZONG hosted the media lounge. In addition to being a beverage partner, Diet Pepsi also facilitated the live video streaming of the event worldwide. Popular food brand Magnum operated a custom-made "Magnum Bar".
PFDC's official bank, Bank Alfalah, hosted a custom-designed VIP lounge with Dunhill hosting a lounge of their own at the Fashion Week. All these activities will continue through the remaining days of PFDC Sunsilk Fashion Week. With Nokia and Daraz.pk as associate sponsors, all these unique activities are first-time endeavours undertaken at PFDC Sunsilk Fashion Week and are demonstrative of the growing acclaim the platform has attained. Further, Day-3 of PFDC Sunsilk Fashion Week 2013 was styled by the creative team at Maram & Aabroo.
Voile Shows
Lakhany Silk Mills kicked off the first show of the third day of PFDC Sunsilk Fashion Week 2013 with a dynamic collection inspired from culture, art and modernism. The brand used passion and experience to create a visceral impact and provide a fashion experience like none other. The collection depicted themes of a rich culture combined with vibrant colours such as tropical papaya, electric blue, lime green, rich mustard yellow and deep brown. The collection incorporated the latest trends in vogue in the industry, drawing inspiration from trends, arts, modernity and romantic moods.
The next show was by textile house Shariq Textiles who showcased 'Seventh Emotion', a womenswear collection which was inspired from the renowned paintings of famed artist Frida Khalo. The collection incorporated the latest tailoring patterns, fabrications, sleek long silhouettes and horizontal stripes combined with spring colours.
The third Voile show of the day was presented by Nimsay Redefining Style by Nimra Textiles, who showcased their Spring/Summer 2013 collection titled 'Enigma' which comprised of fashion lines such as Parsa Lawn, Embroidered classics, Verve (ready to wear) and Aura (fancy party).  The collections experimented with feminine florals, retro blocking, abstract art, Kilims and ethnic motives and featured trends such as statement strips, geisha girls and retro blocking.
The final Voile show of the day was presented by Firdous Cloth Mills who showcased their Spring/Summer collection. The textile house produces and markets a diverse range of versatile fabric brands for the discriminating womenswear consumer, drawing inspiration from lifestyles of luxury and extravagance which they make accessible to every consumer through their creative products. Their resilient fabrics featured vibrant colours with varied hemlines and intricate embroidery, providing a lavish experience like no other
Designer Showcases
Act 1
Rizwan Beyg
PFDC Sunsilk Fashion Week 2013's Prèt Show on Day-3 was opened by acclaimed Pakistani couturier Rizwan Beyg who showcased his truck art inspired 'Rangg'. Though predominantly a womenswear collection, the designer presented 7 specific menswear pieces at the fashion showcase as well. 'Rangg' had been meticulously crafted using the finest fabrics including crushed chiffon, sheer silk georgette, leather and heavy silks.
Each piece was handmade individually by artisans who had laboriously cut and pasted bits of reflective paper and nikel sheeting using flora and fauna motifs in a riot of colour. The cutting and stitching of pieces was based on bias cuts with deconstructing seams by folding them over on the outside to create pleats and frills. All cut pieces were then turned into rosettes and strategically reattached to the piece.
The colour palette used in the collection featured a broad array of diverse shades, with over 20 colours including jewel tones, with basic black and white shades in accordance with global fashion trends. The fashion collection was also set to feature numerous trends currently prevalent in the international fashion industry such as short lengths, transparent lowers in sheet fabrics, sheer slim fit tapered trousers, bell bottoms and many more.
Zonia Anwaar
The second Prèt show of the day was by Zonia Anwaar who presented her collection titled 'Configurations' – a collection which embraced women feeling feminine and having fun with prints, colours and fluidity. Configurations experimented with the sensual drape of the sari and Mughal era geometric configurations derived from domed ceilings with repeated blossoms set within cutwork, applique, digital textile printing and couture accents of embroidery that all came together to create a collection that was local yet global all at once.
The collection showcased detailed craftsmanship and texture and included expected trends such as saris draped onto dresses, drapery, languid shapes, drop waists, cutwork and versatile separates. Based in fabrics such as crushed silk, chiffon georgette, crepe, karandi, net, jamavar and shamose satin, the colour palette ranged from citronelle green, olive and teal to ivory, cranberry and red.
Nida Azwer
Following Zonia, fashion designer Nida Azwer presented her 'The William Morgan & Morris' 2013 collection, inspired from the works of William De Morgan, potter and tile designer and Morris, artist and designer, where fantastical birds, florals, fauna and animals were engaged as intricate and popular motifs in their work. A mixture of East and West could be seen in their historic work, reinterpreted by Nida Azwer for this collection, complimenting the atelier's design philosophy of revival within a modern context. The collection's colour palette drew on Morgan's continued use of the 'Persian' palette. To this end dark blues, turquoise, manganese purple, greens, Indian reds, and lemon yellows were incorporated in this collection across Nida Azwer's signature styles and cuts.
Nokia presents Mohsin Ali
The final show of Act 1 was presented by designer Mohsin Ali who collaborated with cell phone manufacturer Nokia for his collection titled 'plus NOKIA' which was inspired by the vivacious colours of the Nokia Lumia smartphones that the cellular giant had recently introduced to the Pakistani market. Moshin Ali is known for playing with different shades and artistically utlised a palette of vivid colours to craft practical seasonal clothing for the brutal summer days ahead.
Taking further inspiration from Pakistan's rich cultures, Mohsin intelligently transformed his outfits into urban chic looks that were reflected in its local hand embroideries and indigenous patterns, beautifully depicted through the entire collection, one outfit after the other. Mohsin had incorporated dazzling hues of neon's and fluorescents using cotton, net and eye-catching embellishments.
Act 2
Sana Safinaz
Act 2 of PFDC Sunsilk Fashion Week Day-3 was opened by acclaimed designer label Sana Safinaz who showed their Spring/Summer collection, 'Urban Chic'. Bringing forward the aesthetic they channeled in their 2013 resort chic collection introduced earlier this year, for Urban Chic Sana Safinaz used a variety of fabrics, embellishments and accessories such as silks, jerseys, crystals and beads in a vibrant array of colours. Key trends which were showcased were chunky necklaces, bold prints and colour blocking. Fashion models Neha and Amna Babar also walked the ramp for Sana Safinaz.
Layla Chatoor
The second show of Act 2 was presented by Layla Chatoor who showcased her Spring/Summer collection titled 'Ayesha – all the leaves are brown'. For her collection, Layla had drawn inspiration from the vintage 1931 print 'Ayesha', as maintained at the coveted Victoria & Albert Museum archives, consisting of landscapes of leaves, entwining blossoms, birds, deer and sprays of florals. Layla had also engaged zardozi embroidery, incorporating a traditional zardozi technique with a modern laser cutting to create fashion that looks to the future.
The collection further included unique leather cutouts and channels cuts and silhouettes that were aristocratic, glamorous and elegant, with a touch of poise and individuality – a modern day Grace Kelly. To this end, the designer's creations included regal robes, draped dresses and peplum skirts in colours inspired by autumn leaves including browns, olive greens, rusts, yellows, coral and deep maroon and ivories being a summer staple with a hint of antique gold.
Adnan Pardesy
Following Layla's presentation was renowned designer Adnan Pardesy's luxury prèt-a-porter collection, 'Ellipses'. The collection had drawn inspiration from the essence of minimalism to project a look that was entirely glamorous, with a special focus on sequins, kora and threadwork. Trends showcased in this collection were long structured jackets, off-shoulders dresses, tone-on-tone embroidery, applique work, voluminous gowns and skirts. With a colour palette that moved from subtle pastels and dark shades to light blue, light green, navy, maroon, brown and grey, Ellipses was a complete womenswear collection.
Karma Pink
Day-3's finale was presented by acclaimed design label Karma Pink who showcased their spring/summer 2013 collection named 'Gatsby' which drew inspiration from the roaring twenties and The Great Gatsby. The collection's mainstay fabrics were pure silks and chiffons. The silhouette was inspired from the 1920's flapper girls and modernized into contemporary luxury prêt to merge into modern day fashion.
The embellishments were crystal, sequin and pearl based and Art deco inspired, whereas the colour palette ranged from black, white, gold, silver, metallic, nudes, infused with blocks of picks for spring summer staple colours, pink, emerald, blue and red. The trends unique to this collection were fringes, pearls, sequins, graphic gold gilded unadulterated glamour.
The show is being produced and choreographed by HSY Events, with front stage management by Maheen Kardar Ali, backstage management by Maria Baig, logistics and operations by Eleventh Retail, digital support by Maria Butt and B Solutions and photography by Faisal Farooqui and the team at Dragonfly. Foreign media management is being handled by Latitude, national PR by Lotus Client Management & Public Relations, with Sara Shahid of Sublime by Sara as the official spokesperson for the PFDC.