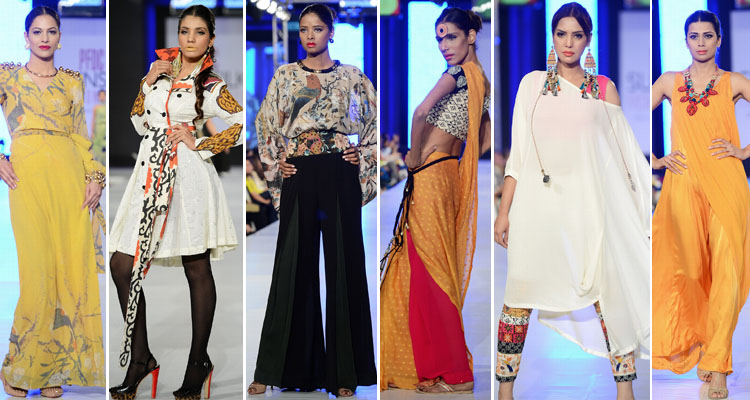 The sixth PFDC Sunsilk Fashion Week officially commenced yesterday marking the fourth consistent year of the prêt a porter platform. In keeping with the objective of furthering fashion retail and synergizing high end design, textile manufacturers and buyers, fashion week includes ramp shows by leading retail labels as well as textile houses along with a fully functional, state of the art exhibition area. Day-1 marked the first day of the afternoon Voile Shows with eight designer prét-a-porter shows later in the evening.
The success of PFDC Sunsilk Fashion Week has prompted private sector associates to use the platform to launch new products, marketing campaigns and promotional activities. On Day 1 of the PFDC Sunsilk Fashion Week, title sponsors Sunsilk unveiled an exclusively designed collectible shampoo bottle in collaboration with fashion designer Maria B., in addition to facilitating the red carpet, green room and backstage areas at the event. Leading skincare brand Pond's invigorated the red carpet with its Reveal Lounge which displayed a collection piece each from designers who will be showcasing their collections on Day-2 of PFDC Sunsilk Fashion Week.
Associate sponsors ZONG hosted the media lounge. In addition to being a beverage partner, Diet Pepsi also facilitated the live video streaming of the event worldwide. Popular food brand Magnum operated a custom-made "Magnum Bar". PFDC's official bank, Bank Alfalah, hosted a custom-designed VIP lounge with Dunhill hosting a lounge of their own at the Fashion Week. All these activities will continue to be available for the remaining days of PFDC Sunsilk Fashion Week. With Nokia and Daraz.pk as the associate sponsors, all these unique activities are first-time endeavours undertaken at PFDC Sunsilk Fashion Week and are demonstrative of the growing acclaim the platform has attained. Further, Day-1 of PFDC Sunsilk Fashion Week 2013 was styled by the creative team at NABILA.
Voile Shows
The Voile Show segment of PFDC Sunsilk Fashion Week 2013 was opened by ChenOne who presented their 'Pareesa Lawn Collection 2013'. Designed by acclaimed fashion designer Sahar Atif, the collection was the brand's contemporary take on the classic summer fabric and featured an ethnic line of prints employing sub-continental embroideries and motifs. Designer Sahar Atif has endeavoured to keep the collection in harmony with international fashion trends by utilising graphic prints in black and white, with splashes of colour to add a dramatic flair to the outfits.
The next show was by designer textile brand, Kayseria, who showcased their Summer II collection for 2013, "Kayseria's Summer Journey II". Indeed, Kayseria's Summer Journey II collection comprised of colour palettes of bright, electric and alive, based in Neons. Using special dyes on stretchable jacquard, the international neon trend had been craftily adapted by Kayseria to suit the Pakistani climate. Giving patrons the freedom to style their prints to their individual taste, the Kayseria Summery Journey II collection committed to take audiences from boring to fun with the magic of neon.
The final Voile show of the day was presented by Sitara Textile who showcased their womenswear collection which included their lines Sitara Mughal-e-Azam Brosha Lawn, Sitara Swiss Heartbeat, Sitara Universal Lawn, Sitara Sapna Lawn and Sitara Cotton Queen. The Lawn Collection of Sitara Textile also included floral designs, pastel designs, and bright bold hues on fine quality fabrics. Sitara textiles firmly believes that by keeping their customer's tastes and preferences in mind while crafting their design wear, they can provide a unique fashion experience which will enrich their consumer's esteem and self-worth.
Designer Showcases
Act 1
Tapu Javeri
PFDC Sunsilk Fashion Weel 2013's Prèt Show on Day-1 was opened by acclaimed photographer turned designer, Tapu Javeri who presented his Spring/Summer line of prints, bags and scarfs tilted 'Tapulicious'. The collection drew inspiration from the architecture of the Karachi city of old. In this collection, Tapu channeled the concept of wearable art, a notion he first explored with his 2011 exhibition called KaraChakra, where he exhibited manipulated images of Pakistan creating chakras, akin to the kaleidoscopic prints of a Shamiana, onto bags and scarves. Indeed, this Tapulicious collection is an evolution of that same idea, taking photographic images and manipulating them into wearable art in the form of prints on bags, clothes and scarves.
The show featured four distinct print capsule collections, with each having its own identity as interpreted by four different fashion designers. The four names along with their corresponding Silk print collections are; Sadaf Malaterre – classic KaraChakra Scarf prints; Adnan Padesey – Monochromatic Pixelated Karachi prints; Wardha Saleem – Sepia Buildings with Gun & Roses prints and Rizwan Beyg – Twisted KaraChakra. Tapu used shocking, monochromatic and sepia colors on printed silks for this collection incorporating key trends such as silk prints, matching scarves and bags while highlighting his signature Tapulicious jewellery.
Misha Lakhani
Following Tapu's presentation, Misha Lakhani presented her collection titled 'Configurations' – a collection which embraced women feeling feminine and having fun with prints, colours and fluidity. Configurations experimented with the sensual drape of the sari and Mughal era geometric configurations derived from domed ceilings with repeated blossoms set within cutwork, applique, digital textile printing and couture accents of embroidery that all come together to create a collection that is local yet global all at once.
The collection showcased detailed craftsmanship and texture and included expected trends such as saris draped onto dresses, drapery, languid shapes, drop waists, cutwork and versatile separates. Based in fabrics such as crushed silk, chiffon georgette, crepe, karandi, net, jamavar and shamose satin, the color palette ranged from citronelle green, olive and teal to ivory, cranberry and red.
FnkAsia
Design label FnkAsia presented the third prét show of the day, with their "East of Bengal" collection inspired by the lush rainforests, tree plantations and ancient culture of Bengal. The central silhouette of the collection was the sari, which had been reconstructed to make it look less tribal and more like a modern garment. A lot of silk, draped in layers, was used in diverse weaves to retain sheen, essential for a luxe feel. The collection also had splashes of intense prints blending into the bright palette. Embroideries and beaded embellishment, a symbol of the FnkAsia signature, had been emphasized within blouses and bustiers. The colours used for the collection were inspired by the Bengali forest's foliage and wild life; the palette blended shades of sap green and rainwater blue towards murjaan (coral) and sindhoori laal (vermillion) that represented the early morning, blazing sun. A touch of white also shone through with the luminescent fresh water pearl – moti – symbolic of the rivers winding through. Film actress and model Humaima Malick walked the ramp as FnkAsia's showstopper.
Elan
The final show of Act 1 was presented by acclaimed design house Élan who showcased their collection named after Keats' poem, 'Ode to a Nightingale'. Inspired by the poem in both the literal and figurative sense, the collection was an artistic expression of transcending the human condition of despair and monotony and feeling at one with the nightingale in its blissful state of freedom and happiness.
For Ode to a Nightingale designer Khadijah Shah re-created a series of Chinoiserie-style prints, featuring different natural elements such as birds, flowers, fish, trees and the quintessential full moon with the songbird featuring as a major recurring theme in many of the prints. The colour palette was subtle and dusky – featuring sunset hues, watery blues, pale leafy greens and the pitch dark black of the night to bring them all together.
Élan worked iridescent fabrics into a holistic, uniquely constructed collection – from lightly draped asymmetric dresses to softly structured skirts, intricately crafted pleated jumpsuits, sensual body grazing wrap dresses, bubbled hemlines, kimono styled jackets, cigarette pants and billowy tops with beading, silk threadwork and filigreed cut-work as the central focus of the embellished detail. For this collection, Khadijah also used atypical studs, flattened alloy disks and bulbous metal forms to create dramatic accents for cuffs, shoulder patches and belts along with cutwork, appliquéd net and thread filigrees and intricate silk thread embroidery for the more elaborate pieces. Fashion Editors Meher Tareen and Samina Khan walked the ramp as Elan's showstopper.
Act 2
Sublime by Sara
Act 2 was opened by Sublime by Sara who presented her collection titled 'NOW, Summer Sublime 2013', inspired by designer Sara Shahid's belief in the importance of living for the here and now – a desire to live for the moment. With 'NOW! Summer Sublime 2013' the designer invited audiences to step into a world of bright and bold colours, showcasing a heady mix and balance of femininity and funk, the loud with the soft and the neons with the neutrals. Trends included in this collection ranged from neon references, stud embellishments, floral and striped prints to cropped jackets and pants. A brand minimalist by nature, Sara Shahid's structural emphasis for 'NOW! Summer Sublime 2013' remained on tailored cuts and drape, resting on the brands ethos of the power of understated glamour.
Akif Mahmood
The second show of Act 2 was presented by Akif Mahmood who schowcased his Spring/Summer 2013 womenswear collection titled 'Montage'. Inspired from the art form of collage, Akif's concept behind this collection was to fuse various prints, textures and embroideries to create a composition in the form of a garment. Akif has mixed colors, motifs and different patterns together for this collection across fabrics such as pure cottons with textured embroideries. The collection was based in a lot of flair and volume, and featured silhouettes that varied in length with long and short dresses with flowy skirts and coats. Using thread embroideries, appliqués and patchwork embroideries, the colour palette used in the collection ranged from orange and hot pink with black and whites.
Sania Maskatiya
Following Akif's presentation was renowned designer Sania Maskatiya's 'Ahgaaz' Resort 2013 collection, inspired by the craft and motifs of 19th century Persian, Middle Eastern, Hispanic and Italian Renaissance ceramics and tiles. Blending powerful images of dragons, serpents and birds with bold geometrics and floral's into the warmth of rich hues and calm pastels, entering a garden of dreams and perilous new beginnings. Using a variety of fabrics such as raw silks, crepes, chiffons and shamoses, embroidered and digitally printed fabrics and screen prints with contemporary structured silhouettes, the collection sought to excite your senses as you entered the garden of new beginnings. Musician Kiran Chaudhry walked the ramp as Sania Maskatiya's show stopper.
Maria B.
Day 1's finale was presented by acclaimed couturier Maria B who presented her Spring/Summer 2013 collection for PFDC Sunsilk Fashion Week titled 'The Sunshine Collection' inspired by happiness, joy, innocence and youth. The colour palette featured bright candy colours in hues of corals, pinks, tangerine with hints of aqua marine and lemon yellows which had been used to come out with a clean silhouette combined with flattering volumes. The emphasis was on bold prints and asymmetric, modern patterns that formed the soul of the collection had been designed using pure cottons, Khaddars and hand printed silks and hints of embellishments and high – impact wearable accessories.
The show is being produced and choreographed by HSY Events, with front stage management by Maheen Kardar Ali, backstage management by Maria Baig, logistics and operations by Eleventh Retail, digital support by Maria Butt and B Solutions and photography by Faisal Farooqui and the team at Dragonfly. Foreign media management is being handled by Latitude, national PR by Lotus Client Management & Public Relations, with Sara Shahid of Sublime by Sara as the official spokesperson for the PFDC.