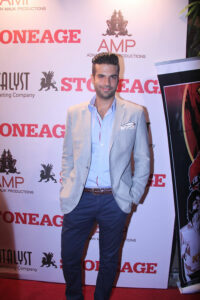 Lux Style Award's winner in the category of best music video director, Adnan Malik teamed up with the best emerging talent in the music category, Bambu Sauce to produce the cracking adrenaline –pumped music video "My Punjabi Love for you". The video premier attended by energetic crowd also marked the launch of AMP, A Boutique Media Production House".
'My Punjabi Love for you' is an evocative and propulsive experimental music video/experimental film hybrid, which tells a story of a young rural wife who attempts to overcome the challenges faced by independent women in a male dominated society.
Inspired by the raw and grungy sound of the track, "My Punjabi Love For You" by Bumbu Sauce, the winners of Lux Style Award's Best Emerging Artist 2012, the video propels you into the world of its female protagonist and her troubled relationship with men and society.
The video features Aamina Sheikh as Parveen Bano, Adnan Jaffar as the evil Landlord and Rizwan Ali Jaffri as the hopeless Husband, with a host of martial artists who play a mixed bag of villains that stand in her way. To play the role Aamina trained in Muay Thai Kickboxing, Mixed Martial arts, Wirework and Motorcycle Stunts. Her gritty and flawless acting carries the story of the video forward into a seamless sequence of events that alternate between real world events and her characters innermost desires and hopes. Adnan Jaffer never once broke character on set as the loathsome landlord and constantly made the producers wonder if they had created a monster.
Featuring inventive direction from Adnan Malik, whose crazy mind this whole idea was conceived in, gorgeous cinematography by ace DOP ZainHaleem and Produced by AMP, the video piece draws inspiration from classic Pakistani cinema and cult martial arts films, and hopes to contribute to the ongoing dialogue about gender equality in Pakistani society.
Adnan Malik Productions (www.amp.com.pk) is a multi-platform integrated production house that develops, coordinates, and produces television commercials, digital media, film based projects, advertising concepts, and event-based entertainment.
AMP has produced award-winning projects, including the Lux Style Award–winning
'Mera Bichra Yaar' and the multiple award–winning short film 'Bijli'.
The company ethos is driven by a desire to integrate cutting edge global sensibilities with culturally entrenched ideas to provide quality visual media, across all mediums.
All projects are approached from a unique perspective with identity, representation and context given highest precedence and importance. A holistic awareness of contemporary digital culture, cinema, design, and current events is incorporated into every project (along with some soul, for good measure).