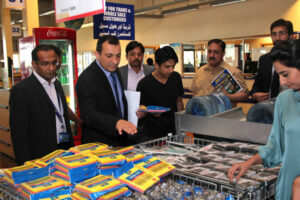 While the crisp and salty taste of the fried golden nimko still lasts in the mouth, the remembrance of the colossal store could not be erased from the mind. It is impossible to stop thinking how a man sitting in his 5 Marla place had so much power of delivering taste and freshness in his hand only to be discovered by the tremendously professional and hardworking team from METRO.
Laeeq Durrani, Head of Own Brand, Sagar Mehmood, Sr. Manager QA for Own Brands and Hamza Bakhshi, Sr. Brand Manager Own Brand along-with Abdul Sami who is the store manager at METRO Airport Store, informed about their day in and day out meticulous tasks of discovering our own local people with ability and talent just not enough resources . This in turn helps develop our cottage industry giving air to Pakistan's progress as a nation. They emphasized the need to put the wealth of time and effort on local manufacturers to cement the local supplier base rather than simple imported products. With great pride the QA dept runs without any internal pressure or force, hence playing their part in decision making.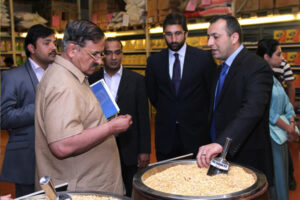 The advent of METRO's own brands started 12 months ago and even with this new born flower, so many households, retailers and HORECA are using its nectar to grow and provide for the public. Their brands are easily categorized as Fine Food which covers almost all edibles starting from bakery items to vinegars, OK which has commodities and the like under it, HORECA which caters to a bulk production meant for hotels, restaurants and caterers etc, for example it includes large jars of ketchup, Sigma covers entire office supplies, H-Line which is once again for HORECA customers as same goes for electronics and households etc.
Just one year of these products on the shelves has created a huge difference when it comes to price comparisons and volume delivered. Their category share seems to go up by 12%-25%. The target is not only to produce products with a low cost, because that triggers an idea of quality compromise, but the main aim is to make a better and reliable quality available to everybody in their homes. This comes up as an alternative with great savings.
They further said with pleasure that if a blind taste test was to be taken, their products definitely secure places in the upper shelf competition. Every product is first tried by the team and its household members prior to be declared safe and healthy. It is this level of commitment accompanied by deliverance which drives all major restaurants, hotels, home makers and even retailers towards this beneficial building. Pakistan's economy was quoted as 'lean and fast' like a deer. We might not be producing 60 brands of soap but we are running with a smart pace to produce all that which is necessary and adds meaning to our everyday lives.
In comparison to the leading brands, METRO's own brands promise the consumer a 20%-25% saving. It is the hub where a consumer does not have to pay for competition, but the mark of quality and health. Similarly, for the retailer, METRO's own brand products mark a maximum profit along with a friendly consumer purchase. The future seems promising enough where money will get its worth from both ends.
Compliance with legislation remains a common unsaid problem in our country, but METRO is proud to announce that their products are up to the Pakistan standards.
A win-win situation is what the stores aim at, the cycle starting from a local manufacturer, a local retailer and finally the local end consumer is due to the smart solution the team brings. The constant attempt to improve and invest in trainings is another step towards progress.
Each item sitting in the store's shelf is a product of a tedious 6-8 month preparation, which includes a 4 month monitoring and evaluation program from the QA dept. Around 1000 SKUs have been done and delivered under METRO's Own Brands so far and the company promises more to come. The core idea remains in understanding the consumer needs and erasing a negative perception. Encouraging results have helped the team and their products grow as they glisten in their striking packaging and high nutrition.