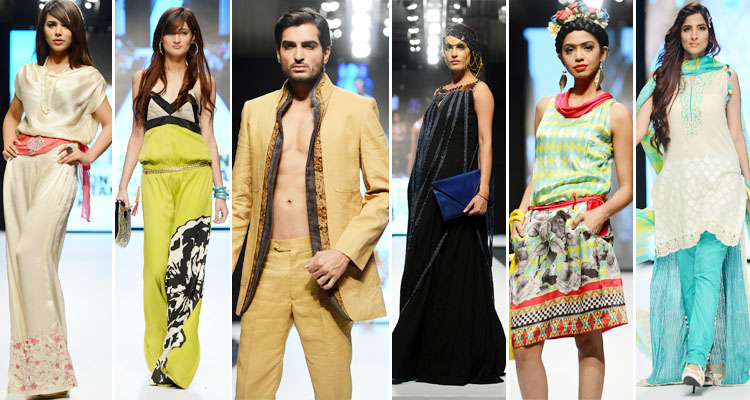 After the break, the show resumed with Sana Safinaz as the opening act followed by Gul Ahmed, Hajra Hayat, Jafferjees, Hasina Khanani, Nauman Arfeen and Deepak Perwani respectively as summarized below.
The show was choreographed by Catwalk Event Management & Productions with back stage management by Production [021] & show production by CKO. Faisal Farooqui and his team at Dragonfly were engaged for all official photography for the event with Hum TV on-board as official media partners and PR being undertaken by Lotus Client Management and Public Relations.
Summer/Spring Showcase: Sana Safinaz
The day's activities resumed after the break with acclaimed fashion brand Sana Safinaz whoshowcased their 2013 collection, taking the audience on a journey from Palm Beach to St Tropez. The collection was an ode to Jacqueline Kennedy Onassis, who is undeniably one of the greatest style icons of the last century. It also honored Babe Paley who was known as "The Best Dressed Woman of All Time".
This collection reminisced of a time when resorts were glamorous while paying tribute to generations of classic women, who were the fashion icons of the 1940s and 1950s. The collection was inspired by other social style icons of the past like Nancy "Slim" Keith, who along with Babe Paley were the inspiration for characters featured in Truman Capote's novels.
Summer/Spring Showcase: Gul Ahmed
The acclaimed textile house showcased next with the Gul Ahmed summer lawn collection which brought to the fore some brilliant and exhilarating styles exhibited through a diverse range of outfits. All the dresses in this spring/summer lawn collection had staggering print designs that had been specially made according to prevailing industry trends.
The designs stood out on long and short shirts both. They were smartly embellished and had been presented with solid color shalwars and printed dupattas. The collection drew inspiration from floral, Mughal and abstract prints. The leading textile house successful presented a wide range of variety in prints and patterns.
Summer/Spring Showcase: Hajra Hayat
Fashion designer Hajra Hayat showcased her collection "RESORT LINE 13" at Fashion Pakistan Week 5. The collection consisted of timeless designs which were feminine and elegant.
The inspiration behind the collection stemmed from the texture of the fabrics itself and featured enhanced different blends with cuts that gelled into the right outfit, with looks that could take you from one season to another. The fabrics, cuts and embellishments used worked around with silk, cotton nets and chiffons whereas the color palette ranged from hues of pearls, off whites and oyster pinks to the richness of royal blues.
Summer/Spring Showcase: Jafferjees
Named "Just Colors" Jafferjees exhibited its signature pure leather-made collection of handbags, clutches, wheelers, satchels, document cases at Fashion Pakistan Week 5. The main inspiration behind the collection was, as the name suggests, just colors, which contained meticulously crafted pieces created keeping practicality, simplicity and elegance in mind, which is quintessentially Jafferjees. The show was styled by the brother and sister duo of Wardha Saleem and Nubain Ali.
Summer/Spring Showcase: Hasina Khanani
The  next show was presented by celebrated fashion designer Hasina Khanani, whose collection showcased at Fashion Pakistan Week 5 was titled "Chain Reaction". The fabric that this collection predominantly employed was denim and had cuts which were based on a fusion of eastern and western styles, with embellishments that included sequins, chains, beads, crystals, diamantes, sapphire crystals, zari, anchor threads and golden studs.
Her collection "Chain Reaction" boasted of rich metallic embellishments on 4.5 oz black denim and varying shades of blue denim. The posh gowns, classy tops and dresses were just perfect for the woman who understands and recognizes truly what is "beautiful". The collection will be available at Brands Just Prêt and The Feathers. TV Personality Hira Mani walked the ramp for Hasina Khanani.
Summer/Spring Showcase: Nauman Arfeen
With a design philosophy of comfort, style, affordability and uniqueness, designer Nauman Arfeen showcased his signature nature inspired collection at Fashion Pakistan Week 5 titled "THE SANDS OF TIME". Predominantly a menswear line with some pieces of womenswear, the collection used linens, cottons and Islamic art inspired embroidery as embellishments on the pieces.
The name of the collection was indicative of the color palette used and included diverse sand and rock based colors, complimented by nature based props. "THE SANDS OF TIME" portrayed the designer's vision that time flows and fashion changes, yet sand remains sand, molded and sculpted to any form one desires.
For the collection, the designer played with materials such as Irish linen, cotton, blended fabrics, polyester and woolen threading. The Pakistani cultural heritage was also obvious in the form of Mughal art and Islamic motifs used in the embroidery.
The Diamond Designer and Best Emerging Talent Awards
Right before the finale two illustrious awards were also given; the Diamond designer award which was presented by chairperson Fashion Pakistan Council Shamaeel Ansari to Maheen Khan in honour of her contributions to Pakistani Fashion. The next award presented by Maheen Khan herself was the Best Emerging Talent award which was presented to Designer Emraan Rajput for his distinctive collection titled "Denimology" showed on Day 1
Summer/Spring Showcase: Deepak Perwani
The last show of Fashion Pakistan Week was presented by Pakistani fashion luminary Deepak Perwani who showcased his prêt collection titled, "Frieda Goes to Khardar". The collection drew inspiration from the eminent artist Frieda Khalo. Simply put, this collection was stylish, chic and purely prêt. It embodied cuts, silhouettes and embroideries that were reminiscent of the times and culture of Khalo's era. The collection was an eclectic mix which comprised of madness, color and fun.