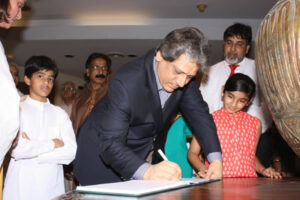 Karachi is the cosmopolitan city where many Art Galleries are having multiple arts and crafts exhibitions and in the chain of Art shows a well known calligrapher recipient of Pride of Performance Ruheena Malik managed to organize her mega show Titled "Treasure of Islamic Art" Exhibition of Calligraphy on paper and wood carvings at Quaid-i-azam House Museum (formerly Flag Staff House) Karachi.
Governor of Sindh Dr. Ishrat-ul-Ebad graced the inaugural ceremony and appreciated the calligraphic work of Ruheena Malik especially in the area of Islamic heritage and high quality of work.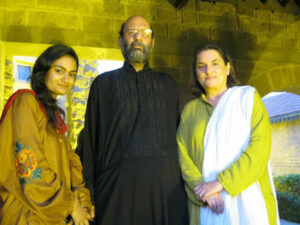 Large number of people from all walks of life and connoisseurs of art attended and appreciated the work and especially display of the exhibits. Commissioner Karachi, Government officials, Cancel Generals of America and Russia, and most of the leading artists and art critics like Amin Gulgee, Jimmi Engineer, Mehtab Ali and AftabZafar etc. Art Critics Marjorie Hussain ,Shamim Akhtar, Nadeem Zubariand  Zeeshan Siddique etc. was also there to witness the show and appreciated the work.
The coverage through Press and Electronic media was also very satisfactory almost all the leading English and Urdu Newspapers and periodicals are still covering. The sale proceeds of work is also very encouraging, because even before opening the sale of works had started and few paintings were booked.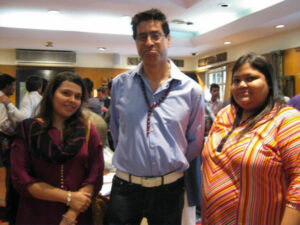 Ruheena Malik was born with a feeling of form and colour and his inspiration came direct from nature. From early childhood Ruheena Malik showed remarkable talent as an artist.
As a student of Pakistan Art Institute, Karachi during her school days in the 70's she became familiar with the basics of drawing and painting under direct supervision of Artist Aftab Zafar to learn a curriculum emphasizing co-ordination between eye-hand and mind and exercises of painting with "feeling" for necessary understanding and skill to become a practicing artist
The Calligraphy of Ruheena Malik is unique in the sense that instead of producing works on plain paper and canvas with colours her tools for the beautiful writing besides paper are wood, Her magnificent exhibits are three dimensional renditions in the form of doors and windows with carved calligraphy The compositions where the lapis lazuli and precious stones has been crushed and mixed with gum to apply on work to produce Quranic verses, Qalma's, Qulls, Darood Shareef in vertical, horizontal and circular formats.
The special reason to organize this event at Quaid-i-Azam House Museum was to emphasize the importance of this national heritage and to create awareness among people of Karachi. The Exhibition will remain open till April 30 2013