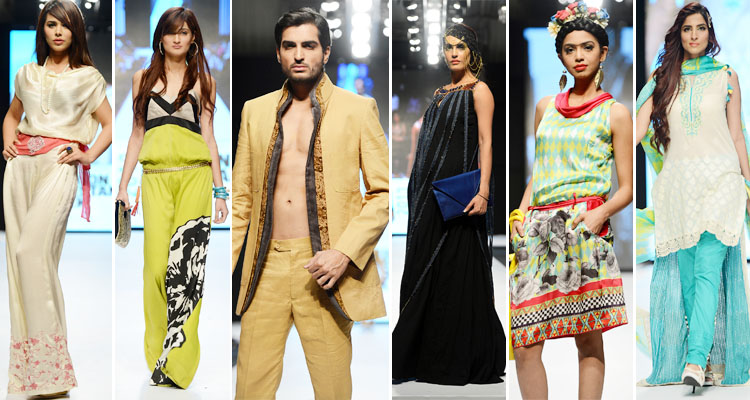 The pioneering Fashion Pakistan Council, presented the second and final day of Fashion Pakistan Week 5, 2013 – a platform that endeavors to promote Pakistan's seasoned and new aspiring fashion talent both on the domestic and international platform.
The second and final day of the Fashion Week opened with Shamaeel Ansari followed by Arsalan & Yahseer, Ayesha Ibrahim, Kayseria, Obaid Shaikh, Rizwanullah, Ishtiaq Afzal and Sania Maskatiya respectively as summarized below.
Summer/Spring Showcase: Shamaeel Ansari
Day 2 of Fashion Pakistan week opened with the April 2013 collection by Shamaeel which reinforced the brand as one that never fails to leave its stamp of authority at any fashion event. The modern consorts of the collection combined with a vintage look gave birth to a fresh chic cosmopolitan look.
Summer/Spring Showcase: Arsalan&Yahseer
The second show of the day was presented by leading menswear brand Arsalan & Yahseer. The collection was remarkably styled by Khawar Riaz and his team. With a fusion of Eastern Kashmiri embroidery "Kashida Karri" with the Italian leather weaving technique called 'interciatto', designer Arsalan showcased his menswear collection titled "SPECTACLE BLANC', meaning white snow in French, at Fashion Pakistan Week 5.With the color white as its main theme, the trendy and sophisticated menswear collection employed a new technique of wool embroidery on cotton fabrics, much fitting to the current Spring/Summer Season. Abbas Jafri walked the ramp for Arsalan & Yahseer.
Summer/Spring Showcase: Ayesha Ibrahim
This year at the Fashion Pakistan Week 5, Ayesha Ibrahim showcased a new collection that solely comprised ofwomenswear. Her collection embodied bold checkered patterns, stripes and tie & die that drew inspiration from the silhouettes of the 60's era. It encompassed both mini and maxi dresses that were highlighted by colored jackets, sequences and floral embroideries. The collection embraced diverse colors including, shades of mustard, brinjal purple, white, black and orange.
Summer/Spring Showcase: Rizwanullah
Designer Rizwanullah also showcased his men and Women's wear collection at Fashion Pakistan Week 5.His show kicked off and ended with his wife and model FayezahAnsari . The collection featured a diverse range of bold abstract prints on a range of tunics, tops, skirts and pants.
Summer/Spring Showcase: Kayseria
Leading womenswear brand Kayseria showcased their "Kayseria's Summer Journey" collection at Fashion Pakistan Week 5, featuring a diverse range of trendy and fashionable apparel exclusively designed for women. The collection entailed the use of special dyes on stretchable jacquard in neons. It was tailored made to suit the warm Pakistani climate and allowed the freedom of personalized choice for women; setting it apart from other fashion collections launched in spring 2013.
Summer/Spring Showcase: ObaidShaikh
Obaid Sheikh showcased his latest collection "Elise" at Fashion Pakistan Week 5. Drawing inspiration from the changing seasons,the collection's core theme revolved around celebrating summers and the energy that comes with spring. His collection reflected freshness and liveliness demonstrated through the use of fabrics like cotton lace, chiffon, crinkle crepe, muslin, laser cut cotton and others in a variety of pastel colours like lavender blue, dirty pink, peach, daffodil yellow, Kashmiri pink, mint green, baby blues, salmon pink and the likes. The collection was predominantly catered to female audiences with 13 female designs but included 5 menswear designs as well.
Summer/Spring Showcase: IshtiaqAfzal
IshtiaqAfzal showed his collection titled "Gul Kari" at Fashion Pakistan Week 5. His collection drew inspiration from Iranian culture and made use of traditional Persian embroideries which are observable in Iranian fashion. The fabrics used in the collection included voile and also entailed machine embroideries. GulKaari embodied bright colours in ethnic and western cuts and featured both womenswear and menswear.
Summer/Spring Showcase: SaniaMaskatiya
The last show prior to the break featured celebrated design label SaniaMaskatiya. Inspired from the craft and spirit of cartographers, SaniaMaskatiya showcased her "Naqsh" collection at Fashion Pakistan Week 5. The collection seeked to map new destinations; journeys, maps and worlds through time and space. Motivated by the beauty of bright geometrics, bold stripes, grids and colors, Naqsh aspired to capture the imagination of the fellow discoverer, charming new territories through the contrast of different colors and prints.
It made use of raw silks, crepes, chamois and silks in conjunction with embellishments such as screen prints, embroidered fabrics and digital prints. Among the cuts and colors used, "Naqsh" embodies draped tunics, straight shirts, straight pants and pleated cropped trousers and features luminous shades of black, white, yellow, orange, sand brown, beiges, turquoise and sea greens.