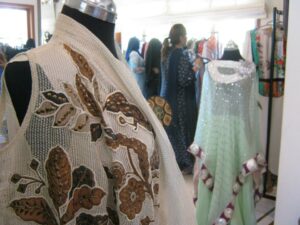 I got the chance to visit Aleena & Fareena exhibition as I step in I got relief from the heat of the day as the atmosphere was cool and calm, I was amazed to see what a wonderful thought of display everything was done in neat manner nothing was overdone. The turnout was excellent People were gently looking at collection but buying them recklessly as if it's a last piece on the rack … attendant were so friendly and helpful busy taking orders with smile on their faces.
The collection was consisting of casual, formal, and semi-formal eastern to western cuts and style; good for all occasions. But my favorite one was the peach collection and gowns with embellishment all the outfits' were exclusive designed and wear good in quality and prices.
A&F is the name in the market since few years, but when you look at their work it seems they are working since decades very professional and devoted keeping their norms in mind they believes Pakistani women can work independently within their traditional ideals they think contribution of their talent with the culture of Pakistan can illustrate their care for in eye of every woman And can spread their & Pakistan name internationally.
One thing is still clacking in my mind and I cannot end my review without mentioning it, there was a small rack which was beautifully displayed at the Conner of the hall and there was written DISCOUNT believe me or not every hand was reaching there and picking something for them self's that was the most eye catchy thing I ever saw at some exhibition.