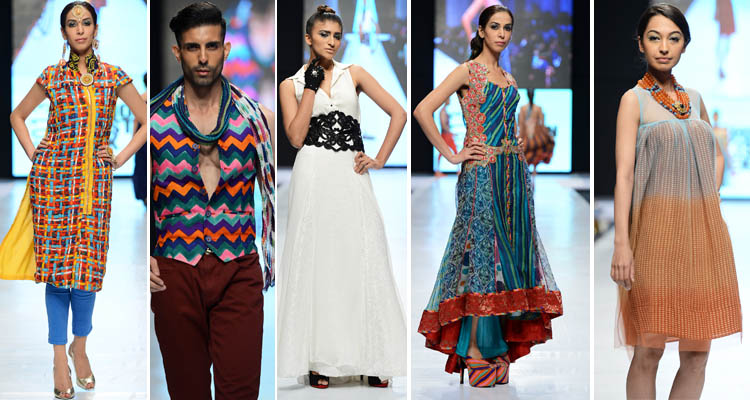 After the break, the show resumed with Ahsan Nazir leading the proceedings, followed by Emraan Rajput, Aamna Aqeel, FaizaSaqlain and Baani D respectively.
Spring/Summer Showcase:  AhsanNazir
Designer Ahsan Nazir resumed the day's proceedings after the break with his new collection "Global Remix". The collection was an indication of a new generation of fashion that drew inspiration from global issues. The collection incorporated 18 female looks and 5 male looks selected on basis of trendiness, modern relevance and merit.
The materials featured in the collection were a mélange of print and embroideries layered with embellishments to create a contemporary bazaar. Colours were an eclectic mixture of off-center tones that were highlighted by sharp hues intertwined with neutral shades.
Spring/Summer Showcase: Emraan Rajput
Fashion mainstay Emraan Rajput presented the second show after the break with his distinctive collection titled "Denimology". The collection predominantly featured womenswear with a few pieces of menswear as well. The pieces were a combination of denim and embroideries with different shades of blue. The main inspiration behind the collection was the traditional Paper Denim Style in a variety of shades of blue silhouettes.
Emraan's forte is cuts, fabric and embellishments; the latter was fine-tuned to give the overall outfit a classic appeal and his signature mark of individuality. Emraan believes in simplicity in cuts and looks to transform even the most simplest of pieces into something unique.
Spring/Summer Showcase: Aamna Aqeel
Aamna Aqeel's line for Fashion Pakistan Week 5 predominantly featured white & black – celebrating the natural duality of life. Sarwat Gilani walked the ramp for Aamna Aqeel. The collection was titled "Finding Glory" and was presented at Fashion Pakistan Week 5 through its underlying concept that this label is for women who dare to be bold and unique, women who want a relaxed yet trendy look and wish to demonstrate an eternal femininity which echoes their personal style. With no single base fabric, the collection utilized chiffon, silk, jersey and suede with sleek cuts, and embellishments that include studs, spikes, zips, chains, sequins and diamantes.
The colour palette for AmnaAqeel's collection encompassed black, white, nudes and gold reflecting the basic philosophy that Amna follows, which is that life is all about change; the only constant, and these changes transpire due to good or bad provocations, represented by white & black. White stands for light, good, happiness and hope while black commonly depicts darkness, evil and sadness; they complement each other yet can't exist in absence of each other. Moreover, glories are a rare commodity in life and are thus ably depicted through gold studs and assorted sequins.
Spring/Summer Showcase: Faiza Saqlain
Inspired by the Sindhi folktale 'Marvi' from Tharparkar, designer Faiza Saqlain showcased her womenswear collection titled "Marvi" at Fashion Pakistan Week 5. The colours used in the collection signified the colours of womenswear commonly worn in Tharparkar i.e. burnt orange, dark red, navy blue, cyan, black and white. The fabrics used in the collection consisted of karandis, chiffons and cotton as the season demands. Silhouettes were majorly draped, with ethnic embroideries, chiffon weavings and embroidered strips were prominently used in embellishments.
Spring/Summer Showcase: Bani D
Acclaimed label Bani D brought the fashion packed day's activities to a close with their distinguished "Colourwashed Layers" collection. The entire collection was elaborated by a musical performance by TV Icon Sumbal Shahid right before the showcase. Inspired from the Saraiki Belt, "Colourwashed Layers" was an amalgam of silks, cottons and nets. Each cut in the collection was tailored to highlight western and local touches for both men and women.
Baani D, the label, managed to include metal work, chicken-kari, fabric folding, crochet and gota as embellishments in the brand's showcasing line at Fashion Pakistan Week. Perfectly complementing the cuts, "Colourwashed Layers" used a unique colour palette for inspiration; flawlessly incorporating the colors of the sky, the earth and air. The show ended with Sania Saeed walking for Bani D on the ramp.