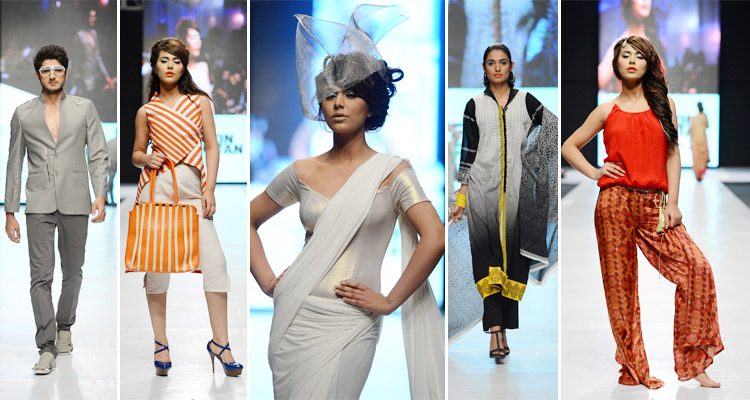 The pioneering Pakistan Fashion Council, presented day 1 of Fashion Pakistan Week 5, 2013 – a platform that endeavors to promote Pakistan's seasoned and new aspiring fashion talent both on the domestic and international platform.
The first day of fashion week opened with House of Maheen followed by DeepaknFahad (DnF), Zari Faisal, Orient, Aamir Baig, Mona Imran and Ayesha Hassan respectively as summarized below.
The show was choreographed by Catwalk Event Management & Productions with back stage management by Production [021] & show production by CKO. Faisal Farooqui and his team at Dragonfly were engaged for all official photography for the event with Hum TV on-board as official media partners and PR being undertaken by Lotus Client Management and Public Relations.
Summer/Spring Showcase: House of Maheen
Day 1 of the fashion extravaganza kicked off with renowned designer Maheen Khan presenting her new collection "Flight". Inspired by the IUCN Red List of Birds, Maheen Khan's latest collection consisted of the perfect blend of chiffons, silks, jersies and chamois. "Flight" featured white and silver ensembles that encompassed a diverse variation of hues. Made exclusively for women the collection featured elegant and timeless pieces meticulously crafted for the modern and stylish Pakistani fashionistas.
Spring/Summer Showcase: DnF
The second show of the day featured dynamic duo Deepak and Fahad who presented their spring/summer collection at Fashion Pakistan Week 5 titled "Metalistic". As the name suggests, the main inspiration behind the collection was metals and items made of metallic substances like chains and metal sticks among others. The collection comprised of both men and women's wear pieces and primarily made use of studs as principal embellishments on cotton and twirl fabrics. The whole collection was masked in three colors; beige, grey and dark blue.
Spring/Summer Showcase: Zari Faisal
Designer Zari Faisal was next to follow and showcased her womenswear collection titled "Plush" at Fashion Week Pakistan 5. Taking inspiration from old oil paintings the collection exhibited a very vintage feel, reminiscent of less modern times. With gorgeous handwork and intricate detailing of butterfly motifs featuring lots of floral designs, the collection epitomized a dream from the past.
The collection utilized plain nets, silk floral, and gold pleated lame' as its main fabrics with a variety of cuts; some flowy, some straighter. As far as embellishments were concerned, Zari is currently in love with flat sequins which she combined with a variety of dominant colors, including corals, pinks, beige and gold which comprised the main colour theme of the collection.
Spring/Summer Showcase: Orient
The first Textile House to take to the ramp, Orient Textiles presented their Spring/Summer 2013 collection at Fashion Pakistan Week 5. A collection catered specifically to discerning females, outfits were inspired from the female audiences destined to wear the meticulously crafted attire. Each outfit was tailor-made to cater to a particular age group and featured fashionable apparel ranging from designer wear, to classical wear, to modern and ethical clothing, with each outfit created with the utmost regard to quality and durability.
Spring/Summer Showcase: AamirBaig
The next designer to present their collection was renowned fashion auteur AamirBaig. AamirBaig's "Lines" collection was a tribute to over 150 years of stripes and its comeback to fashion. Stripes have always been appreciated for their "graphic sensibility" and minimalism. Fashion picked up on this trend in the 1930s when stripes became the inspiration of many designers. Even though they are associated with French seamen; a 60s rebel's symbol; or a banker's outfit, stripes have long been a favored summer staple. A trusted blue and white striped outfit can always be called upon to provide some summer chic.
Spring/Summer Showcase: Mona Imran
Based on precision and simplicity, Mona Imran's latest collection that was presented at Fashion Pakistan Week was titled "Safari". The collection drew inspiration from the designer's love of wildfire that represents the bold and beautiful woman of today.  It made use of sheer and shimmery fabrics combined with bold animal prints like cheetah, lion and leopard in the form of fitted capri pants and fitted skirts. "Safari" blended together blacks, golds and tones of beige and featured a few menswear pieces as well.
Spring/Summer Showcase: Ayesha Hasan
The next collection was presented by up and coming designer Ayesha Hasan.  Her collection showcased at Fashion Pakistan Week 5 was titled 'Zilji' and was an amalgamation of Urdu calligraphy infused with Zillij designs reflecting the connection of the collection with Islamic Moroccan architecture.
The fabric, cuts and embellishments were based on silhouettes that were designed to be nifty yet simple. Detailed and intricate embellishments such as tassels and beltscreated a style which was wholly original as well as exceptionally practical. The colour scheme used in the collection combined dark and rich shades, and exhibited a congruity between the bold and the beautiful.