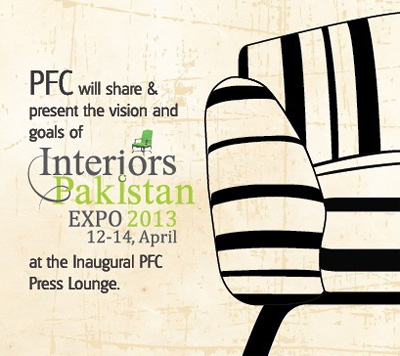 Pakistan furniture Council will organize a press lounge on 4th April 2013 – 4:30pm at La Atrium Restaurant – (Chen One Complex, Halli Road), senior architects and interior designers would discuss and give solutions for job opportunities, furniture industry, exposure to young interior designers, and future goals and growth of interior designers in Pakistan with the grand display on Interiors Pakistan Expo 2013.
The Press Lounge would be briefed by Sajjad Kausar (Former Principal of National College of Arts), Hina Tayyaba (Vice Chancellor – PIFD), Jawad Ahmad Tahir (Head of Interiors Department, Punjab University), (Shahzad Mughal (CEO Workman), Tina Khan (CEO TKID), Mian Kashif Ashfaq – (CEO PFC), Hamza Tarar (Owner of Casa Hamza), Omer Nabi (Owner of Studio O) & Rizwan Amjad (Owner of National Furniture).
It would be the first grand gathering of all the most famous names in interior designing to exhibit their designs together under and would also create opportunities for young designers to step in the furniture industry. The Interiors Pakistan
Expo would commence 10,000 potential customers to the exhibition, while also targeting the general public. There will be a Q&A session for an hour on growth and sustainability of the furniture industry in Pakistan. Senior designers and architects will also join the Press Lounge.  Juggan Kazim will be the moderator for the Q&A session.
Expected participants are Casa Hamza, Chen One, TKID, Interwood, The Furniture Gallery, Barry's Collection, Alqeetas Marbles, National Furniture, Haris Traders, Mohkam Furniture, Fantac Furniture, Workman Furniture, Happilac Paints, Black Horse Paints, Chragh Din & Company, Indoor Furniture, GR Aluminum, Grooves Interiors, Banu Mukhtar, Enviro Furniture and New Era Furniture.
Media Coordination by Purple Arts & Communications.