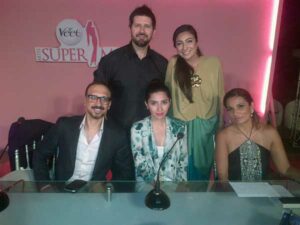 Charisma is beauty and confidence, the perfect ingredients to make you stand out amongst a crowd of good looking people. A model looks beautiful, a super model exudes confidence, beauty and femininity. It won't be wrong to say that the 7th episode of Veet Miss Super Model, challenged our Veet girls even further while testing the waters of elegance. With a pool shoot, looking gorgeous in water became even more challenging when some of our Veet girls came face to face with their greatest fear while posing amidst a pool with sea creatures.
The latest episode featured the gorgeous super star of Film and TV industry, Mahira Khan as the Celebrity Mentor. Mahira Khan gave very important tips to the girl and emphasized to stay true to the profession and give full dedication to their work. Frieha Altaf however pointed out that education is equally important for everyone even in the showbiz industry.
The main challenge of the episode was a Pool Photo shoot, Photographed by the celebrity judge, the one and only Tapuliciously Tapu; and stylized by the queen of style, our celebrity judge, Nablia. Tapu and Nabila have been around with the girls since the time of auditions and knew well the strengths and weaknesses of all the contestants and made them test to the fullest. The shoot was done in pool with sea animals surrounding and giving the contestants a mermaid look.
The winner of the Pool shoot was adjudged by the strongest team of judges till date. Apart from the permanent panel of Frieha, Tapu and Nabila, the guest judges included Mahira, Pakistan's best music video director Asim Razaand our favorite and truly professional and cutting edge fashion/ Lifestyle Magazine Xpoze's Chief Editor Andleeb Rana Farhan.
Sehrish with stunning pictures bagged the best model of the Photo shoot. That was her second win. She was the star of the Runway episode as well. Judges absolutely loved the confidence and with what ease she posed for the camera. Nida won the mini challenge. She has the best teeth!
Now that the contest has only one episode left don't forget to watch the last episode and find out what entrepreneur Frieha Altaf, permanent judges and Mentor have to say. Who will have what it takes to be the next Veet Miss Super Model?