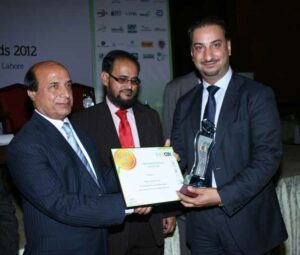 Etihad Airways, the national airline of the United Arab Emirates, has won a prestigious Corporate Social Responsibility award in Pakistan.
The award for Global Corporate Social Responsibility Leadership Premium was presented at the first CSR Business Excellence Awards 2012, organised by the National Forum for Environment and Health.
The award recognized Etihad Airways' on-going commitment to incorporating ethical values, complying with legal requirements, and respecting individuals, communities and the environment.
This was achieved through outstanding, innovative and world-class services and projects implemented in 2010-2011.Accepting the award on behalf of the airline, Etihad Airways Area General Manager for Pakistan, Bangladesh and Nepal, Amer Khan, said: "Corporate and individual philanthropy is an important part of Etihad Airways' CSR strategy. In Pakistan, our CSR programs focus on human development and economic empowerment to support underprivileged communities in the country."
Etihad Airways' CSR initiatives in Pakistan during 2011 included ongoing flood relief, support for HRH The Prince of Wales' Pakistan Recovery Fund, flying the Special Olympics team to the world games, and more recently, sponsoring the Oscar winning documentary "Saving Face".
Etihad Airways, the national airline of the United Arab Emirates, began operations in 2003, and in 2011 carried 8.3 million passengers. From its hub at Abu Dhabi International Airport, Etihad Airways serves 84 passenger and cargo destinations in the Middle East, Africa, Europe, Asia, Australia and North America, with a fleet of 66 Airbus and Boeing aircraft, and 100 aircraft on order, including 10 Airbus A380s, the world's largest passenger aircraft. Etihad Airways also owns nearly 30 per cent of airberlin, Europe's sixth largest airline, and 40 per cent of Air Seychelles.