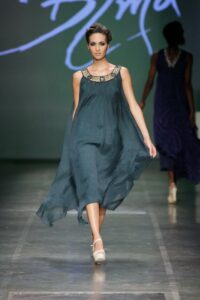 For the First time ever, a Pakistani designer showcased in South Africa during Africa Fashion Week with 20 avant-garde looks from the Peacock Palette, including cocktail dresses & evening gowns! While the entire collection depicts a male pea-foul, the finale piece, all set in white, has been inspired by a female peacock!
B'ZMA's Fall/Winter 2011/12 collection has been inspired by what could be called God's finest artistic display of colors, a Peacock.
Called "The Peacock Palette", this collection will be regal, vivacious and exciting in nature, and will feature some of the label's signature fusion designs.
Fusion is created in the most unique way in the form of either modern cuts and traditional embellishments, or traditional silhouettes with modern elements. As quoted by Pantone, the coming season will witness the artful combination of bring colors with staple neutrals. This marriage between the loud and subtle colors will also be witnessed in the collection, and further building on Pantone's report, the dominant hues will be Emerald, Topaz, Amethyst, Jadeite & Bronze.
Fabrics used include pure plain and Crinkle chiffons, Chinese & Raw silks and Jersey or stretchable material. Unique fabric dying techniques such as vertical tie & dye, Box tie & dye or shaded dying have been actively employed in all the designs. Embellishments are rich and heavy, and all hand done. Diamondtees, natural and Swarovski stones, various sized sequences and beads are mish-mashed in a unique way to bring the collection to life.