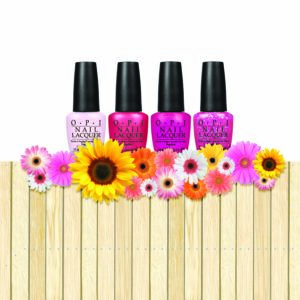 TheOPI Nice Stems! Summer collection is creating waves due to its fun names. Made up of four nail colors in different shades of pink, the Nice Stems collection is just what anyone needs to complete their make-up kit for summer.
First up is Be A Dahlia Won't You, a bright pink polish packed with shimmer. This has a bit of a foil finish to it. Most beauty bloggers are declaring this nail color as their favorite of the collection.
Come To Poppy is a darker pink, with a tad bit of coral happening here. It is also packed with a pearly shimmer. Sure seems like this pearl shimmer is going around this season.The shimmer in this is gorgeous in the sun, but pictures don't do it justice. The formula is also really great, a little thick but in a good way. If you use thick coats you might be able to get away with only needing 1 coat for this one.
Play The Peonies is a very light pink toned white with a pearly shimmer. Shades like this are what stylists refer to as wearable white, they are light enough that they look white to most people but in no way does it look like you slapped some white out on your nails and called it a day. The shimmer is also lovely, at the right angle it was all multicolored and gorgeous! The formula was also surprisingly good, light shades can be a pain sometimes but no issues here.
Last up is I Lily Love You which is multicolored iridescent glitter in a sheer pink base. The glitter is irregular, some square, some round…some crazy lookin pieces. All in all, an exciting an unique summer collection by OPI which has something for everyone. With pink and shades of pink just what everyone needs this summer, the Nice Stems collection is a must-buy for every summer wardrobe.The OPI Nice Stems collection is available at all leading spas and salon in the country as well as at all major retail stores.