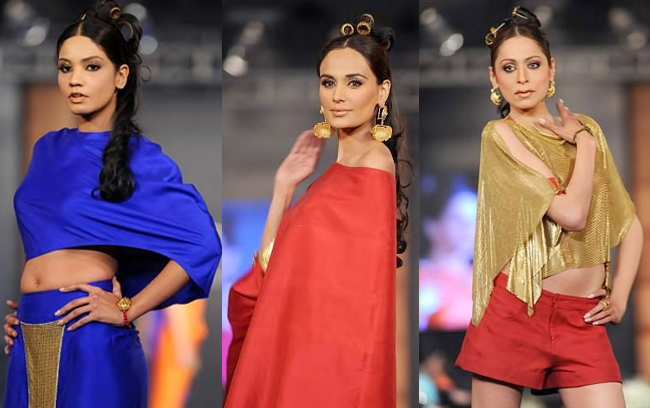 The third show of the evening was by Kiran Fine Jewellery titled 'Sceptres of Beauty'. The collection took inspiration from every woman's innate need to conceal, protect and provoke. For centuries, through ancient civilisations to modern times, women have used basic tools like the mask, hand-held fan and the parasol to do exactly that: conceal, protect and provoke. These three instincts have been reinvented with the revolution of the cosmetic beauty industry.
And so, these three 'Sceptres of Beauty' assimilated in this collection as a tribute to 'the women of all times'. Kiran Fine Jewellery's showstopper for the evening was  Pakistan's most revered classical dancer Naheed Siddiqui.
"A woman's innate desires will always remain the same no matter how much she appears to have evolved on the outside," said Kiran Aman of Kiran Fine Jewellery on her inspiration behind her debut solo jewellery show. Showcasing jewellery pieces such as necklaces, earrings, pendants, rings and teekas (head and forehead adornments), 'Sceptres of Beauty' was handmade with cutwork and carving using metals such as gold and silver and stones such as lapis, coral and malachite together with red and green sapphires.
The wardrobe for the jewellery show was designed by Yasmin Shaikh.
Kiran Fine Jewellery epitomises the woman of substance, who wears jewellery not simply to adorn but to reflect the essence within. Founded in 2003 by the multi-faceted Kiran Aman, each piece of jewellery is crafted with the finest materials with a deliberate focus on gold, as the designer believes its strength, warmth and malleability is a veritable representation of the women for whom she designs. Kiran has received accolades for her work in jewellery design, which includes the Nesvita Women of Strength award for Best Jewellery Designer. Her jewellery has further been worn by models, stylists, celebrities and Pakistani icons at a variety of shows and events in Pakistan and internationally.