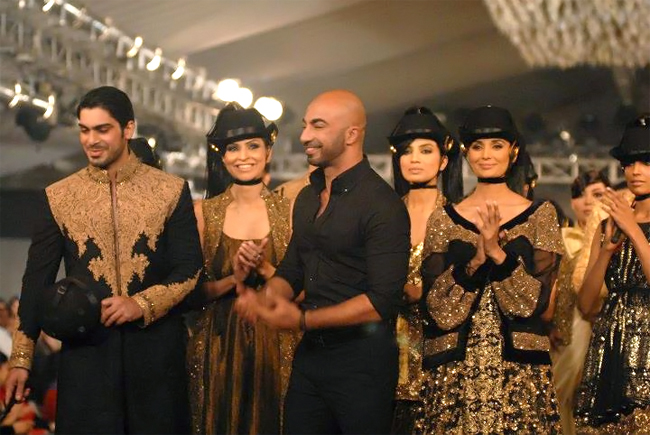 Following Nabila's Style Show HSY showcased a collection, entitled 'Game of Kings', inspired by the majestic sport of Polo. The show opened with professional polo player Shameel Alam, walking the ramp for HSY followed by L'Oréal Paris spokesperson Meesh Shafi with her great dane on the ramp.
The collection comprised of both menswear and womenswear, accompanied by leather bags made for HSY by Vintage Montana. 'The Game of Kings' by HSY was designed in silk, chiffon, brocade, net, leather, tropical suiting, fur, karandi, suede and cotton with emphasis on surface embellishments, both classic and contemporary. The colours that dominated HSY's collection were tan, black, gold and chocolate.
With over a decade gone since it was established (in 2000), HSY is best known for combining contemporary silhouettes with the traditional techniques of old. The brand's inspiration is distinctly Pakistani and Middle Eastern peppered with Western influences. Easily recognised as one of the biggest names in fashion in the region, Hassan Sheheryar Yasin is the fashion force behind the label and has been referred to as the 'New King of Couture' by Harper's Bazaar magazine.
Hassan himself holds an honours degree in Couture from the Pakistan School of Fashion Design, an affiliate of La Chambre Syndicale De La Couture Parisienne, France. Currently serving as a member of the board of directors of the Pakistan Institute of Fashion and Design, Hassan is also one of the founding members of the PFDC and the recipient of multiple 'Designer of the Year' awards, including the Ahlan Fashion and Lifestyle awards in 2009, the Lux Style Award in 2005 and in 2007, the Most Stylish Fashion Icon at the MTV Style Awards in 2008 and Style Guru of the Year by Indus Style Awards in 2007.