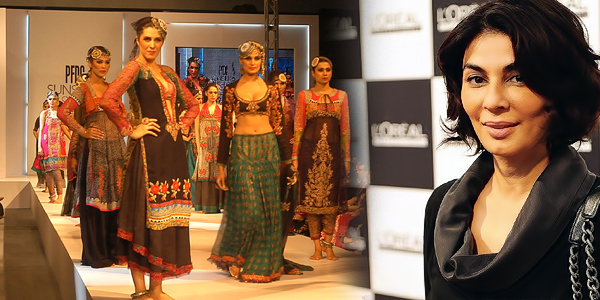 L'Oréal Paris, the world's leading beauty brand, and the pioneering Pakistan Fashion Design Council [PFDC] presented day 1 of the PFDC L'Oréal Paris Bridal Week – a platform that endeavours to define and present contemporary and traditional Pakistani Bridal fashion, jewellery and make-up trends, fusing to create the 'look' for the Bridal Season 2012. Day 1 was attended by leading fashion personalities, media and stockists/buyers including Pakistani multi label boutiques Ensemble and Brands – Just Pret and the Manchester based, Imani Studio.
The first day of bridal week featured an exclusive style show by Nabila, solo fashion shows by HSY and Sonia Azhar respectively along with a jewellery showcase by Kiran Fine Jewellery, as summarised below. Each day of PFDC L'Oréal Paris Bridal Week is being styled by a different creative team and to this end, Day 1 was styled by Nabila with men's styling by Khawar Riaz.
The PFDC L'Oréal Paris Bridal Week is being produced by Catwalk Productions, with event coordination by R-Team, set design by Hamza Tarrar, official photography by DragonFly and public relations by Lotus. The Black Carpet for PFDC L'Oréal Paris Bridal Week is sponsored by Damas.
PFDC L'Oréal Paris Bridal Week was opened by the iconic stylist and Creative Consultant for L'Oréal Paris Nabila with her show, 'Gold to Bold'. Nabila and her creative team interpreted four versions of a traditional bride and showcased a more modern day interpretation of the same. Nabila's key style trend was to convey how being traditional can also look timeless and elegant, while the same ideas can be modified and modernised for a bride who looks to be more contemporary. 'Gold to Bold' suggested that the focus should remain on the bride's individuality, personality and confidence. Designer Zaheer Abbas worked closely with Nabila to create the wardrobe for this style show.
Nabila first opened her salon in May 1986. She has since redefined fashion, style and imagery in Pakistan. Indeed, throughout her 25-year career in beauty, she has contributed extensively towards refining the image of the media industry. Nabila clasps both eclectic and original styles in her work and in her own sense of fashion. She is known for her specialised touch, be it hair, styling or dramatic make-up for shoots. At Nabila, the creative team works with all aspects of hair, make-up and styling, believing that individualism and attention to detail are key in customising styles.
Nabila also just recently launched a new division, NPro – a one-stop specialised professional division catering to couture-based styling needs.
Nabila did the styling for the female models for all the shows for Day 1.