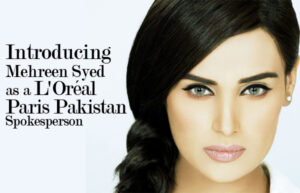 Mehreen Syed is one of Pakistan's top supermodels who has set national, regional and international fashion runways ablaze with her show stopping poise and confidence. She continues to grace the pages of local and international magazines and is among Pakistani's most sought after supermodels. An entrepreneur, Mehreen has most recently launched the International Fashion Academy Pakistan [IFAP] where she combines her expertise in fashion with her business acumen to lead the institute with a passion to succeed and indeed contribute positively to institutionalizing and organizing the fashion industry in Pakistan today. Indeed through IFAP Mehreen has sought to establish a platform that allows the next generation of fashion industry professionals, specifically stylists, models, makeup artists and photographers, to study their field in a professional environment, equipping aspiring specialists with the technical know-how and exposure enabling such students to be able to pursue such studies as a viable career.
As model, Mehreen has also achieved numerous accolades which to her credit include the "International Model of the Year" award in 2005, "Face of the Year" award in 2007, "Glamorous Entrepreneur" award in 2010 and was ranked 16th in the Hottest 50 Asian Women in the World 2009 survey.
Claiming a right for a multi-faceted beauty over a standardized or perfect beauty, L'Oréal Paris, the world's leading beauty brand, and its international ambassadors have always been influential personalities from the world of arts, fashion and beauty; Penelope Cruz, Aishwarya Rai, Eva Longoria, Beyonce Knowles, Jane Fonda and Patrick Dempsey are a few amongst the many who have come to represent a cross section of age, morphology and ethnic origin – all illustrative of the brands' beauty philosophy.
L'Oréal Paris Pakistan's spokespeople share the same brand philosophy and this December 2011, the brand proudly introduce glamorous model and media personality Mehreen Syed as a Spokesperson in Pakistan.