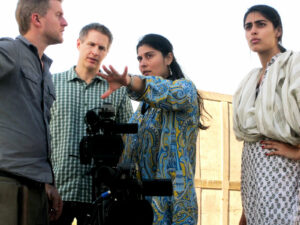 October 14th 2011: Saving Face, a film chronicling the work of a British Pakistani plastic surgeon, Dr Mohammad Jawad, aiding victims of acid attacks in Pakistan as directed by Sharmeen Obaid Chinoy and Daniel Jung has been shortlisted as one of only eight documentaries from across the globe for the Best Documentary, Short Subject as announced by the Academy of Motion Picture Arts & Sciences. Indeed Saving Face is set to air on America's premier television cable network HBO, in March 2012. Saving Face was filmed entirely in Pakistan in the Seraiki belt as well as in Rawalpindi, Karachi, Islamabad and its outskirts.
Speaking about this international achievement, Sharmeen Obaid Chinoy said: "It still hasn't quite sunk in that Saving Face has been shortlisted for an Oscar nomination. It is a huge honour for me and a tremendous feeling to know that this film, based in Pakistan, has been appreciated and acknowledge by a global jury – My co-director Daniel Junge and I are now keeping our fingers crossed and hoping that the shortlist turns into a nomination come January 24th!"
Indeed in the documentary Saving Face, along with her other films, Sharmeen Obaid Chinoy constantly seeks to set a new standard for cinema that furthers the art of nonfiction storytelling in Pakistan. With a formidable list of awards under her belt including a coveted Emmy Award for her film 'Pakistan's Taliban Generation', Chinoys' eponymous film company has garnered a reputation for producing content that extends boundaries and challenges audiences. From following the lives of child suicide bombers in 'Pakistan's Taliban Generation' to bringing to light the plight of Iraqi refugees in, 'Iraq: The Lost Generation' her films continue to highlight the voices of marginalized communities around the world. Now her recently launched production company intends to groom a new generation of directors, producers and writers who will be equipped with the skills and training to produce quality films for a Pakistani as well as an international audience. Sharmeen Obaid Films is currently editing, 'Taboo Beauty', a film about the transgender community in Pakistan for Channel 4, UK.