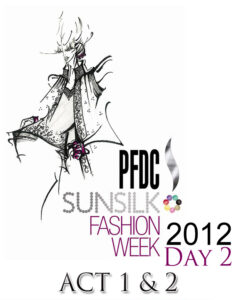 October 21 2011: The second day of the PFDC Sunsilk Fashion Week included a diversity of fashion showcases from both mainstream industry labels and brand new talent. Attendance was equally diverse with the fashion and design fraternity present along with local and international media,  celebrities as well as those local and international brand and individuals facilitating the business side of fashion. Structured into 2 acts, a total of 6 designers showcased their prêt a porter collections.
Amongst the highlights of Day 2's showcase  was that renowned actress; more recently known for her performance in "Bol" on the silver screen, Humaima Mallick walked the ramp for fashion designer Sania Maskatiya's collection which was showcased in the opening of Act 2.
PFDC Sunsilk Fashion Week 2012 Day 2 – Act 1
Act 1 was opened by the sister duo Nickie Nina, with their latest prêt a porter womenswear collection. Entitled 'Sous-Marine', the collection drew inspiration from the richness of underwater life, its array of colours and textures. Showcasing for the fourth time at the prestigious week, for this specific collection, the Nickie Nina design duo engaged the richness of pure fabrics such as raw silk, traditional organza and crepe de chine. With clean and minimal cuts the "Sous Marine" collection was accentuated with chain and pearl embellishments.
Nickie and Nina are two sisters who together are the designers who form the impressive team behind the Lahore based fashion house, launched in 2000. The duo work with a variety of fabrics and their signature style rests on the innovative way they combine two or more textures in a single creation. Nickie Nina have showcased to heads of states and fashionistas alike and have been seen across diverse international fashion destinations including New York, L.A., Chicago, Pennsylvania, UK, and the Emirates. Nickie Nina also showcased their collection at Prêt-à-Porter Feminin in Paris this September where their house of fashion was selected to represent Pakistan directly from the runways of PFDC Sunsilk Fashion Week.
Zainab Sajid's womenswear prêt-à-porter collection for her debut showcase at the PFDC Sunsilk Fashion Week was entitled "Hala-Lujah". Taking inspiration from Hala pottery, the collection depicted strong elements of Hala's folk culture where its pottery is famous for its exquisite designs and motifs. Indeed Hala pottery is a major art form that has survived centuries rooted in the cultural ethos of the 5000 years old Indus Valley Civilization. This collection was an effort to transform that historical creativity and inherited skill into fashion. Zainab Sajid's collection incorporated chiffons and silks with a focus on cuts and drape with a flowy silhouette accentuated with motifs and Kashi work from the pottery.
Speaking about her latest collection, the designer said, "The designs originate from a simple inspiration and create a façade of glow and sheen on the canvas of selected silhouette"
Launched in 2009, Zainab Sajid is synonymous with elegant and chic couture, setting benchmarks in Bridal wear with innovative and original lines following the traditional and the contemporary ethos. With the amalgamation of Eastern intricacy and design in bold and soft hues, the Zainab Sajid brand is inspired from life and follows Pakistani cultural heritage in a unique urbane manner to make each outfit according to individual taste. The label has participated at major Asian Fashion Shows and all over the world from Dubai to UK to the US. This is the first time the label will be showcasing at the PFDC Sunsilk Fashion Week platform.
Following Zainab's show and indeed Act 1's finale show was Mohsin with his womenswear collection for PFDC Sunsilk Fashion Week entitled "Drawing the Line".  Speaking about his collection for the PFDC Sunsilk Fashion Week, Mohsin said "Through my clothes I want to tell the story of a rich cultural heritage, fables immortalized in patterns, overlaid with bold stripes to depict the feeling of being trapped, bound, held still by constricting circumstances". Through his collection Mohsin highlighted and remarked on Pakistan's current crises. Barred from all sides with issues ranging from abject poverty, corruption, power generation, disease and natural disasters; he used his clothes as a medium to vent his personal agitation and the public's emotional turmoil. The fabrics used in this collection were cotton, chiffon, silk, linen with hand and machine embroidery.
Mohsin has a degree in Fashion Design from the Pakistan Institute of Fashion Design (PIFD) and was the winner of the Bronze Award at the PIFD 2010 graduation show. He was first selected by the PFDC to showcase his designs under his own name and label, Mohsin, at PFDC Sunsilk Fashion Week November 2010 to critical acclaim. Mohsin has had two years of experience working as a menswear designer with Republic by Omar Farooq. He also designed the head gear for Nickie Nina's collection at the debut PFDC Sunsilk Fashion Week in February 2010 and worked with the duo for their PFDC Sunsilk Fashion Week collection showcased in Mar/Apr 2011. This week was his third solo showcase at the prestigious platform.
PFDC Sunsilk Fashion Week 2012 Day 2 – Act 2
Act 2 was opened by Sania Maskatiya with her womenswear collection marking her debut showcase at the PFDC Sunsilk Fashion Week. Entitled "The Dilkash Collection", the pieces were designed with the elegant and charismatic Pakistani woman at the fore.  Sania's luxury Pret Collection laid emphasis on cuts and draping and the collection exhibited the use of block printing, screen printing, digital printing, computer embroidery with crystal and metal embellishments in pure chiffons, shamose, silk and crepe.
A graduate of the prestigious Indus Valley School of Art and Architecture in Karachi, Pakistan with a coveted degree in textile design, Sania Maskatiya has been designing since 2007 under the label 'Chamak'. In 2009, in an exciting bid to expand into broader fashion endeavors, Sania launched her own label, the now eponymous 'Sania Maskatiya'. Sania's signature aesthetic is a balance between elegance, comfort and practicality with designs that often take imaginative inspirations, manifest across three main lines including prêt a porter, diffusion wear and haute couture, for women of all ages. The Sania Maskatiya design house uses only pure fabrics cut and draped in a range of silhouettes creating versatile looks across all their fashion lines.  Sania Maskatiya has showcased her designs both within Pakistan and on the international circuit such as a fashion show with the multi-brand boutique Soirée in Dubai, Fashion Pakistan Week and an exhibition in India to much critical acclaim. This was her first solo show under her eponymous label and she shared earlier on her being a part of the platform, "PFDC Sunsilk Fashion Week is a great platform for all designers and gives us a lot of exposure as a design house. Since this is my first ramp collection under my eponymous label – its extra special!"
The second show of Act 2 was new designer M. Irfan Ali with his debut womenswear collection entitled "Marachay – the melting pot of Punjab". It took inspiration from the life and style of the culturally rich tribe of southern Punjab, Marachay. Indeed the designer views the tribe as a melting pot of various cultures that has brought forward new stylised architecture, embroidery and vibrant colours. M. Irfan Ali's collection incorporated 3D pocket silhouettes with a modern aesthetic yet retain the essence of the tribe. "Marachay – the melting pot of Punjab" was based in different types of cotton fabric accentuated with printed velvet, applique work & patch work. Speaking about the collection, M. Irfan Ali has said, "The inspiration for my collection is taken from the lifestyle of the culturally rich tribe of southern Punjab, Marachay."
A graduate of the 2011 class of the prestigious Pakistan Institute of Fashion Design M. Irfan Ali was awarded the second best textile and runner up collection 2011 at the PIFD graduation fashion show.
The Day's Finale belonged to FNKAsia who presented their womenswear collection  entitled "Suzani", a tribute to the ancient craft of needle work. Indeed Suzani diffused its way into Pakistan through Bukhara and Uzbekistan over 1500 years ago. The collection was based in fabrics such as pure cottons, linen and velvets accentuated with pure silk for a luxurious finish embellished primarily with Suzani needlework. The silhouette boasted draped inner suits with structured outer jackets. Huma Adnan, the force behind FNKAsia has said, "I have enjoyed being part of the PFDC & Sunsilk Fashion Week and hope to be part of a platform that pushes fashion further into trade and development."
Established in 2005 by Huma Adnan, FNKAsia is the most widely retailing high street brand of ready-to-wear women's wear in Pakistan. The label's philosophy is to recreate indigenous local crafts and take them from almost extinction to the future of fashion. FNKAsia has fast grown as a statement label, carrying the exuberance of culture in to the dazzle of red carpet glamour. FNKAsia has been nominated for a variety of awards and has showcased collections in California and Dubai with signature stores across Pakistan and internationally, in the US, Dubai also stocking in India. FNKAsia showcased its "Sea Merchants" collection for the first time at the PFDC Sunsilk Fashion Week in March 2011 to wide acclaim.
The PFDC Sunsilk Fashion Week is being produced by Catwalk Productions and styled by the creative team at Sabs The Salon and Khawar Riaz with Event Coordination by the R Team and Business Consultancy by The Little Black Book, Technical Direction by Asim Naeem and Public Relations by Lotus.