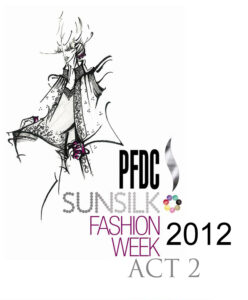 Opening for Day 1's Act 2  was the Karachi based designer Nida Azwer  with her womenswear collection for PFDC Sunsilk Fashion Week entitled "Foliaceous" which drew inspiration from the textures and hues that surround her. Based in a flowy silhouette using fabrics such as cottons, linens, silks and organza, the collection marked the designers' foray into textures where she explored the textures of fresh leaves using traditional techniques such as cutwork accentuated with lace in the earthy tones of green and blue. Speaking about her participation at the week the designer said "Fashion weeks in Pakistan gives everyone the opportunity to collectively showcase their work on a national level. I'm very happy to support it and be a part of it."
Nida Azwer has been designing and working in fashion under the aegis of her eponymous label since 2005. Her label includes a prêt-à-porter line, Haute Couture and Bridal lines with her most recent fashion expansion being an exclusive line for children. In a further organic extension, the fashion house will also be introducing a Prêt a Porter menswear line between 2011 and 2012.
The label has come to be recognized for the designers' love of more classic and vintage design elements infused with traditional Pakistani craft such as 'tukri ka kaam', 'rilli', 'kantha', 'zardozi' and miniature embroidery worked into contemporary fashion silhouettes. Everything made under the Nida Azwer label is hand-worked in Pakistan using only pure fabrics including Irish linen, chiffons, hand-woven silks and brocade. Indeed Nida Azwer is best known for infusing her label with attention to detail, innovative cuts, silhouettes and tailoring. She was showcasing for the third time at PFDC Sunsilk Fashion Week.
Next on the Karachi runway was the Pakistan Institute of Fashion Design [PIFD] where six students, Farwa Zaheer, Ridah Syed, Rubab Haider, Maryam Jaleel, Asma Iqbal, Komal Afridi, Safa Tariq and Saba Ijaz showcased their indiviual pieces and capsule collections.
The preeminent Pakistan School of Fashion Design (PSFD), established in 1995, has now been transformed into a larger organization and renamed as Pakistan Institute of Fashion and Design (PIFD). The Institute is a federal organization incorporated under Section 42 of Companies Ordinance 1984, sponsored by Ministry of Commerce, Government of Pakistan.
The Institute is affiliated with Ecole de La Chambre Syndicale de La Couture, Paris for Fashion Design Program, and with Mod'Spé a leading French school for Fashion Marketing & Promotions for School of Fashion Marketing, apart from other collaborations for student exchange programs for high standards and maximum exposure.
PIFD has recently initiated the establishment of Constituent Colleges, in 6 other cities of the country; Islamabad, Multan, Faisalabad, Peshawar, Quetta, Hala, with the vision to develop local industries and promote indigenous crafts.
The first day's finale was by designer Akif  showcasing his womenswear prêt-à-porter collection for PFDC Sunsilk Fashion Week,  "Mast Patang", inspired by the Pakistani kite flying festival of Basant. His collection looked to capture the joyous nature and festivity of the occasion. In this collection he harked back to his childhood memory of congested old Lahore buildings where thousands of colourful kites were being flown from every roof top.
"Mast Patang" was worked in a variety of fabrics such as velvet, linen, chiffon, viscose and cotton and engaged a vibrant colour palette including yellows, reds and oranges symbolising the rich colours of the kites themselves, along with the colour deep blue, indeed symbolic of the colour of the night in which these kites are flown.  The designer presented French styled velvet jackets, jumpsuits inspired from the Far East and striking waistcoats all fused together with traditional Pakistani embroidery to create a collection representing Pakistan and its beautiful culture as manifest within the festival of Basant, to the rest of the world. Speaking about his design aesthetic the designer said "Whatever I design has to have a touch of our own culture and tradition. No matter how Western the collection is or how modern the cuts are, it should have some elements of our culture, because I believe this is how we can create something different from the rest of the world."
Akif Mahmood graduated in Fashion Design from the Pakistan Institute of Fashion Design   (PIFD) in July 2010 and received the Best Collection Award for his work at the institute's graduation show. He then showcased his debut collection at PFDC Sunsilk Fashion Week in November 2010 to critical acclaim, under his own label, 'Akif'. His signature style is reflected in his use of colours and elements from local Pakistani culture combined with contemporary cuts to create modern yet traditional designs. Akif has also worked with fashion powerhouse 'Libas' till February 2011, retailing under the name of "Akif for Libas" at PFDC Boulevard, 10 Q, Lahore. During this period, he was invited as one of seven designers to participate in Ittehad's summer show. In March, Akif went on to design a collection for the PFDC Sunsilk Fashion week, Lahore, entitled "Fkeerni – Rags to Riches". This time, showcasing independently under his exclusive label "Akif", Akif is currently stocking at PFDC The Boulevard Lahore and The Designers Karachi.
The PFDC Sunsilk Fashion Week is being produced by Catwalk Productions and styled by the creative team at Sabs The Salon and Khawar Riaz with Event Coordination by the R Team and Business Consultancuy by The Little Black Book, Technical Direction by Asim Naeem and Public relations by Lotus.