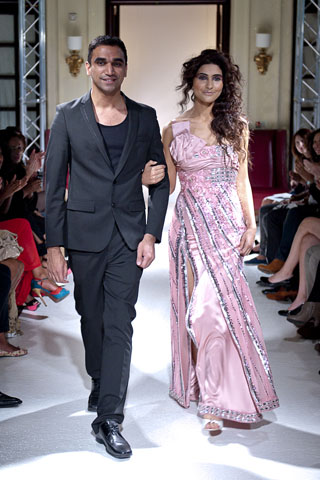 Omar Mansoor's fifth London Fashion Week collection is inspired by the exhibition of the Enchanted Palace held at Kensington Palace.
The Enchanted Palace reveals hidden stories from the lives of the seven princesses who've once lived there. The elements of pain, sadness and unrequited love demonstrate the emotion and drama that has laced Kensington Palace in the past.
Two of the seven characters: the rebellious Princess Charlotte and Queen Mary II, who suffered fourteen miscarriages, form the key inspirations for the season.
Omar's collection consists mainly of the two colours, rose pink and black; symbolising Princess Charlotte and Queen Mary. With royalty as the key motif throughout, both knee and full length dresses are designed to define royal attire.
With a sample of modern and contemporary designs, the "Enchanted Palace" compliments Omar's well-known style of glamorous, feminine garments made with soft chiffons and satin silk fabrics, maintaining the raw DNA of the brand. The flowing structures of the pieces are beautifully embellished with Swarovski crystals and sequins to execute the art of pristine sophistication.
London based designer, Omar is designing custom made dresses for Middle Eastern Royal's (Sheikha Moza is a fan) and A list celebrities; Amy Guy and Katie Price. It becomes no surprise that Omar's sensational elegant designs are perfect for the camera-loving stars, who love to look fabulous in the finest of femininity.
The "Enchanted Palace" is the fifth collection of beautifully draped dresses with an exuberant ladylike structure with an extremely complimentary silhouette for the womanly figure.