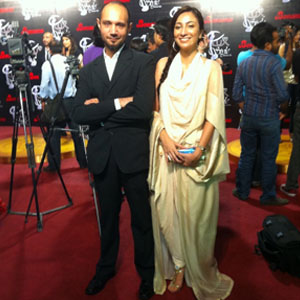 The glamorous night of Lux Style Awards 2011 held last night in Expo Center Karachi. The dazzling event always attracts millions of fashionistas and this time the excitement was much more on red carpet and backstage. All Pakistani fashion designers, fashion models, stylists, photographers, actors, actresses, singers and many other celebs were part of 10th Lux Style Awards making it a festive night to imprint minds forever.
Apart Pakistani fashion industry, television, music and several entertainment categories were listed to be awarded at Lux Style Awards 2011. Show began with National Anthem and the hosts of the night were former VJ Mahira Khan (actress of film Bol) wearing an elegant dress by Deepak Parwani, MTV VJ Faizan Haque, and some from Banana News Network.
Chaudhary brothers, Mustafa and Murtaza were the presenters of LSA 2011 where Sahir Lodhi's hysterical mimicry of Bollywood King Shah Rukh Khan made everyone to burst into laughter. The night was awesome and the red carpet was magical when the ladies and hunks stepped looking gorgeous in their designer's outfits. Mathira hosted the red carpet of Lux Style Awards 2011 wearing Shehla Chatoor's costume. Fashion icon Frieha Altaf and fashion models Amina Sheikh and Amna Ilyas were wearing stunning dress by fashion designer Fahad Hussayn where Amna Ilyas won the best dressed at the red carpet of LSA 2011.
Bushra Ansari appeared in Umar Sayeed's dress whereas, Savera Nadeem and Sahira Kazmi were endorsing beautiful outfit by Sana Safinaz. Fashion model Ayyan worn outfit by Sonya Battla and Anoushey Ashraf was dresses in Sanam Choudhry's costume. All beauties were prettier and hot in exceptional designers' creations. Now comes the spotlight-the stage of the glamorous night spell bounding the viewers.
Producer and actress Reema Khan danced on stage with Hassan Sheheryar Yasin on title song of her latest flick "Love Mein Gum". Meera and Ahsan Khan tapped the feet on "Mein Hoti Ek Morni", Mohib Mirza and Aminah Sheikh performed on "Tere Bin Mera Jeevan" whereas Ahsan Khan and Mathira on "Wada Karo Sajna".
Fashion collections were also the highlight of the 10th annual Lux Style Awards. Crimson collection by Ali Xeeshan, Sana Safinaz Collection and Deepak Perwani's Bridal Collection added the night. At such a memorable event how can one forget Pakistani legends and so the tribute was paid to legendary Moin Akhtar who has just recently passed away.
There were Lux Style Awards in 10 fashion categories and others. The winners list of Lux Style Awards 2011 in all categories includes:
Television
Best TV Actress (Satellite): Bushra Ansari for Geo's "Dolly ki Ayegi Baraat"
Best TV Actor (Satellite): Faisal Qureshi for Geo's "Meri Zaat Zara Benishan"
Best TV Writer (All Channels): Umera Ahmed for Geo's "Meri Zaat Zara Benishan"
Best TV Serial (Satellite): "Bol Meri Machli" for Geo
Best TV Actress (Terrestrial): Sania Saeed for PTV's "Hawa Rait aur Aangan"
Best TV Actor (Terrestrial): Javed Sheikh for ATV's "Pal Bhar Mein"
Best TV Serial (Terrestrial): "Anokha Ladla"
Best TV Director (All Channels): Haissam Hussain for HUM TV's drama "Daastan"
Fashion
Most Stylish Sports-person: Aisam ul Haq
Best dressed female on the Red Carpet: Amna Ilyas
Best dressed male on the Red Carpet: HSY
Best female model of the year: Rabia Butt
Best male model of the year: Iffi Zafar
Best emerging talent: Mahin Hussain
Best Hair and Make-up Artist: Creative Team at Nabila
Best Fashion Photographer: Rizwan ul Haq

Achievement in Fashion Design-Pret: Khaadi Khass
Achievent in Fashion Design-Luxury Pret: Shamaeel Ansari

Achievement in Fashion Design-Lawn: Sana Safinaz
Best Retail Brand: Khaddi
Achievement in Fashion Design-Menswear: Ismail Farid
Lifetime Achievement Award-Fashion: Samina Ibrahim of Herald
LSA Beauty Icon Award: Reema
Music
Best Artist: Mauj
Singer of the year: Shallum & Zara Madni for "Payaam"
Best Music Producer: Rohail Hyatt for "Coke Studio-Season 3″
Best Music Video Director: Bilal Lashari for EP video "Shor Macha"
Unilever Chairman's Lifetime Achievement Award: Mehnaz
http://www.fashioncentral.pk/pakistani/designers/65-fahad-hussayn/