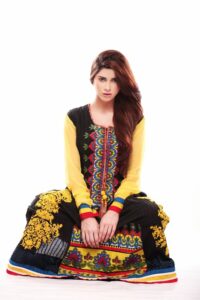 There is something very distinguishing and remarkable about having your own culture being incorporated in the fashion scenario of today. The Pakistani fashion scene has witnessed a complete turn nowadays and it is seen to be exploring its own indigenous roots; with peacock prints and truck and rickshaw embellishments emerging as the new and in thing.
Truck and bus art was mainly introduced in the country initially by public transport owners to attract more passengers. But gradually, it became the norm; not so much in public transports but with trucks and rickshaws, to have colorful and delightful vehicles full of inspirational quotes, local lollywood actors, song lyrics or folk tales. Now it is an inherent part of the Pakistani culture, and what may appear brassy and gaudy to some, is in all its glory the very heritage we are proud of.
In the fashion scene of Pakistan, with every designer trying to revive the history and culture of Pakistan and Sub-Continent; a boosting array of chooridaars, pashwaaz, angarakhas and khussas has been witnessed. Therefore, it came as less surprise when a few of the famous designers of our country ventured into the formerly unexplored arena of the traditional truck art which has been a trademark of our region's culture.
The most famous amongst the fashion scenario in Pakistan is the retail store Uth-Oye, a unique and socially conscious, design based initiative by Babar Ali. It is an excellent retail store that becomes the voice of the nation and has some amazing stuff with most of them having truck art and also promoting the truck culture. He has incorporated various symbols of truck art in his designs and has completely revolutionized the fashion scene through his avant-garde designs.
Another fashion mammoth creating ripples in the fashion industry through her truck-art inspired designs is Maheen Khan who came up with the concept of launching a brand 'Gulabo' which is all about off the street couture and is all about everything Pakistani; from street love to food love to truck love to the love of colour.
What this fusion of truck art in the local fashion scene has done is that it has made people appreciate what our own aboriginal culture has to offer in terms of its diversity and vivacity. It has made people acknowledge the intricacies that go into the making of a truck and its art. Therefore, at  the end of the day it is all about valuing what our own country has to offer in terms of exuberance and energy.