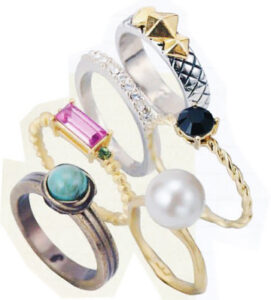 Shoes are for feet and rings are for fingers. Fingers without rings look dull and boring. To make a complete sense of fashion and style for your fingers, you must wear stylish, cozy and classic rings. Rings enhance the beauty and glamour of your fingers. It adds a flare of style and fashion even to an ordinary finger.
Rings are said to be the most delicate item in the entire women jewelry. It has its own importance and one can't have stylish and glamorous hands without wearing rings. The types and varieties of rings varies according to occasion, season and often on your taste. If you want to look casual and cozy then you can wear minimal ring, nail file ring, stamp ring, knot ring etc.
For a funky and punk look wear Revolver ring, Frankenstein and Pirate rings, for a stylish and fashionable look wear gas mask ring, heart ring, flower ring, question mark ring and smiley rings. These are types of rings that not only bring style, fashion and glamour to you but also mark a statement on your personality and over all look. The fashion jewelry and fashion accessories in Pakistan also change with the latest trends especially when we are talking about rings.
Rings fashion in Pakistan experiences new dimensions and varieties. Nowadays Pakistani girls and women like latest and stylish rings for their finger's glamour and style. Pakistani jewelry markets are full of stylish and chic rings for their lady customers. Stone rings are also in demand in Pakistan. White pearl rings, Red Rhine stone Ring, White Enamel Ring, Rhine stone Fashion Ring, Emerald Green, Victorian Style Crystal Ring, Multi Color Crystal Ring, Studded Gold Owl Ring, Teal Stone, Turquoise dome style rings are the latest and stylish rings, that are in demand not only among Pakistani Women but women all over the world.