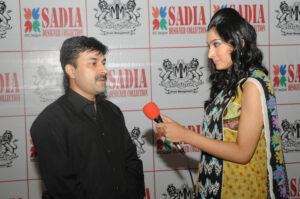 On 27th July, 'Sadia Designer Collection' by Atif Yahya Launched their label in Karachi with Ayesha Umer and Anoshay Ashraf as brand Ambassador. This exhibition took place at Imperial Clifton for 2 days and was attended by Mishi Khan, Angie Marshell, MunnaMushtaq, Sarwat Gillani, Kokab Ansari, Shaheen Saeed, & Nazneen Tariq along with other socialites and families from all walks of life.
Entire exhibition was tastefully decorated with mannequins' wearing the same attire as printed on Ayesha Omer & Anoushey Ashraf's 15 design posters inside exhibition area.  Availability of spacious hall & ambience on corner made visitors amazed .Helpers from textile colleges guiding visitors properly about clothes and philosophy behind design.
The Lawn was available in 12 designs in unstitched form with chiffon duppatas & colorful prints with embroidery motif which was intelligently fused together to attract women from all age group. Fabric was made out of finest quality cotton available called PEMIA. That was the reason the feel of the fabric was so soft yet excellent visitors were excited to wear those before Eid.
The main idea of this exhibition was to take the design towards international market in midsummer of 2012 and was initiated from Karachi and will exhibit in Lahore and Islamabad subsequently in July 2011. Atif Yahya Designer Sadia collection was overwhelmed by the feedback and thrilled to launch his new collection in 2012. Complete exhibition was created and managed by 'Munna Mushtaq Event Management Company' with Asif Nicky as PR, Event &Media Manager along with Farhan Memon and Rohail as event mangers.