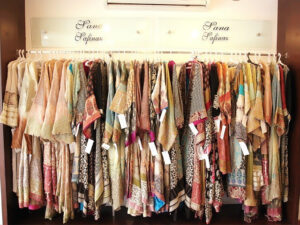 Like any other Sana Safinaz exhibition customers lined up outside both House of Ensembles on the 16th of August and the Sana Safinaz outlet store on the 18th of August. At both exhibitions women of all age groups had arrived much before the scheduled time, waiting for the doors to be opened. After, waiting outside the gates for a few hours, the House of Ensemble opened their doors at noon while the outlet shop opened up at 11:00am, in both cases, women rushed to racks grabbing and snatching as many pieces as possible. Women all over Pakistan have realized when it comes to high and superior quality, there is only SanaSafinaz.

Sanasafinaz this year have done screen prints in a variety of floral and geometrics and this time they have concentrated more on the embroidery aspect.  Each outfit is juxtaposed with embroidery with vivid colors and screen printed kalis along with the use of a variety of threads in silk and gold. The colors are slightly more autumn with rich oranges, gold's and blacks for a more evening palette. SanaSafinaz also have a capsule collection of vibrant died chiffons with a western sensibility.
The SanaSafinaz brand have kept the Prêt collection in sync with the philosophy that they had originated, which is creating a Melange of print, texture, embroideries and color potpourri. The delicate balance which they create in their Export Prêt Line is between pricing, design, and giving their client most value for their money. This line was created to fill a demand for Asian women living abroad and working women who do not have the time capacity to wait long periods to order clothes.
SanaSafinaz Prêt line will also be stocked in stores in Dubai, London, India, Singapore and Hong Kong.