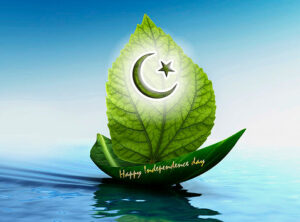 A little over six decades into its existence, out motherland is home to one of the worlds few nuclear powers, perhaps the only third world country distinguished to have some of the most scare commodity known to civilization. Pakistan is not only home to cultural miracles and artistic thoughts but is the conglomerate of some of the most hospitable people and some of the most beautiful locations on earth.
With its 64th birthday just around the corner, the cities already seem to be hoarded by vendors selling flags and other accessories all along the roads of every bustling periphery.
The spirit of Independence day for every Pakistani revives in him the fervor and the grit of all those who sacrificed their lives and livelihood for this cause. It ignites that flame of inspiration that pushes him to go beyond the line and reach for the stars.
While the young have an entirely different concept of welcoming an anniversary for our independence by finding their way on to the roads. Its quite the fair, with shirtless body painted boys, others dangerously risking their lives pulling stunts on motorbikes.
While your television and your surroundings may be clad in green and white, the entire nation awakens with the spirit of patriotism. Military and official guard of honors are presented at the graves of martyrs who selflessly sacrificed their lives for a better tomorrow for future generations such as ours.
While many of us may hoist a flag or perhaps even parade our roads and boulevards in the middle of the night, we must keep in mind that the spirit of independence is beyond just having fun. It is about imbibing in yourself the spirit to do more for your motherland. Pakistan does not just give us shelter, hope and abode. It gives us an identity, a home.
We must therefore decide on this birthday that we will all play a graver role in reversing the curtailing economic, political and financial misery we have ourselves bestowed upon us and move forth towards success in every field of life by representing Pakistan in all walks and helping it reach its epitome. We do this not just by being patriotic, but also by being good citizens all year until its time to retake our oath.