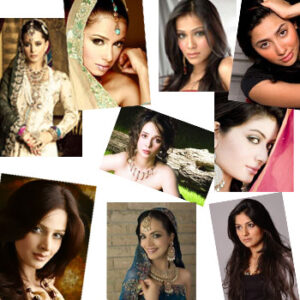 A top 10 roundup of the best Pakistani actresses from both the TV and film media is given here. We have carefully selected the Pakistani actresses based on a number of diverse factors e.g. Looks, acting skills, versatility of appearances on TV or film, etc.
Year 2011 has brought along a fine lot of Pakistani Actresses sprouting like mushrooms but making their mark in both the TV and Film world as if they have decided to take hold of the screen forever. The true beauties of this Year seem to mesmerize the TV viewers and film lovers not only with their appearances but with their acting skills as well. Those who have worked in Bollywood once have come back with a direct license of being rated as the top most Pakistani Actresses. This technique has worked for all, from Meera to Mehreen Raheel.  All the rest seem to be waiting for their turn to get this license. Fashion Central  rates the Top Ten list of best Pakistani Actresses, from both TV and Film, 2011 as follows.
1. Mahira Khan
And now amongst all the other competitor Pakistani actresses, comes the "Face of the Year" name. This name is a true spark, full of vitality and jubilation, a fine combination of beauty and Talent. Number 1 couldn't be anyone but Mahira Khan.
Humaima Malik though not a 2011 entry, has yet covered many milestones leading towards success and fame. After performing in various TV dramas, her debut in "Bol" has given her acting a new spirit and dimension. She is on number 2.
Mehreen Raheel since has got the license of being rated among top scorer Pakistani actresses, so nothing can hinder her success so far. She is making wise and gradual progress. Slow and steady seems to win the race one day. Along with TV she is ambitious about working in Lollywood as well. For today, she assumes number 3.
4. Juggan Kazim
Now comes Juggan Kazim, A fashion model, VJ and Pakistani actress. She has returned from Canada and is well known for her spontaneity and wit. Along with acting on different TV channels, she is seen hosting a morning show as well. Her broad smiling face is her mark. She is a daring person who has left no medium untried. We hope it's not the "master of none" case. Well, only time and her decisions can unveil this. For 2011, she is on number 4.
5. Sanam Baloch
Sanam Baloch is a new Pakistani actress whose looks can't go unnoticed. Her fresh and distinguished appearance seems to have a magnetic pull. Number 5 goes to her beauty and style. "Akbari Asghari" is one of her best TV drama serials.
6. Tooba Siddiqui's
Tooba Siddiqui's name is the name of Fashion world. The show stopper of all the well known Pakistani designers has an incomparable acting talent as well. She is as successful on TV screen as on ramp and is placed at number 6.
7. Saba Qamar
Saba Qamar's sharp features and true eastern beauty can't be overlooked. This Pakistani actress is working on different TV channels these days. Her acting has lifted her from her previous stature to a place where new horizons are welcoming her. Still she could hardly attain number 7 on Fashion Central this time.
8.  Amina Sheikh
Amina Sheikh is gaining a maturity both in her style and acting. She is known for her versatility. After modeling she has successfully stepped in the field of acting. TV drama "Main Abdul Qadir Hun" has given her great fame. She holds number 8 this time.
9.  Madiha Iftikhar
Madiha Iftikhar is a new and fresh sprout for the TV drama world of this year.  This Pakistani actress has a long way to go. With her confident looks, She deserves to be rated as number 9.
10. Natasha Ali
Natasha Ali is a TV actress, usually seen performing light comedy in TV sit comes, or hosting shows. Her innocent looks and spontaneous style is on number 10.