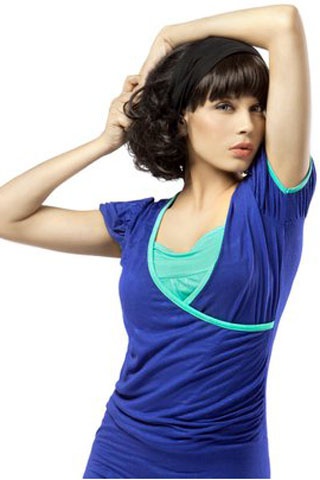 Few days back, as I was roaming around doing some window shopping, I was solely thrilled to spot all the checkered printed tops in darker and lighter shades of purples, reds and blues as I whirled around the outlets of CrossRoads, Textilion and Outfitters. Resurgence of checkered prints in the market compelled me to pour out my wallet. How can one resist such vast range of stunning tops with checkered prints, at least I can not as I have always been in love with such classy stuff.
This year, latest trends have certainly rebelled against conventional colors and prints. Dark colors are considered equally cool as light colors were used to be. Though in present times, lighter shades are likewise trendy and can be found with the perfect combination of checkered prints. In the movie "We Are Family" Kareena Kapoor's cool pink and brown checkered printed tops are certainly one of the initiators of this trend. She donned herself with checkered prints that made her look absolutely delicate and went well with her youthful and vibrant role. Kareena's costumes in the movie rang a bell in the designers' sense of innovative style. The best part is the variety of colors which has a certain stylish appeal.
Interestingly, despite the tempting large range of colors, checkered print successfully retain the touch of masculinity in men's wear. Checkered prints have a certain rough and rugged feeling about it.
The rage of checkered prints is certainly a drift of summer 2011. The casual yet voguish look of checkered prints is becoming more and more prominent in the young generation. Checkered prints have over ruled all the floral and abstract motifs. Not only the tops and t-shirts but this summer, new trend of checkered printed scarves is also proving to be a bang in the fashion industry. The new collection of designer brands such as Cross Roads, Textilion and Outfitters offers a large variety of colors and checkered printed tops, t-shirts and scarves that has been increasingly becoming the rage of the year.