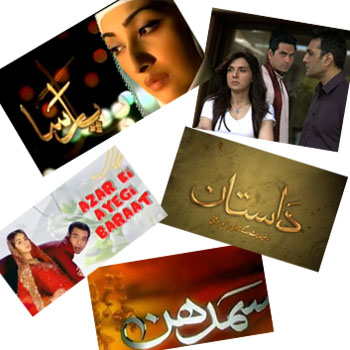 Pakistani dramas are being broadcasted on several television channels and are popular worldwide including in India because they are written by intelligent writers and are enacted over strong screen play.
Dramas in Pakistan have a rich history as our media has produced many unforgettable shows. Beginning with our old shows such as "An-Kahi", which is a play full of situational and witty comedy and "Alpha Bravo Charlie" encompassing around the life of three recently commissioned army officers and how they lived a military life. Pakistan television is the founder of television in our country just like Pakistan is a pioneer in drama making. The classic Pakistani dramas have been broadcasted on PTV for long and were even popular in India because they were written by intelligent writers and enacted by versatile actors.
Now, Pakistan has various television channels to avail the opportunity of communicating with the public through the drama serials. Pakistani dramas are featured on social issues. Moreover, mellow dramas are also acknowledged and appreciated by Pakistani people. The rest are based on short stories or novels continuing the sequels. The popular soap opera as "Dolly Ki ayegi Barat", a comedy sequel of "Azar ke ayegi Barat" shown on Geo TV, depicts the culture of joint families in Pakistan and the daily issues regarding them.
Coming towards a serious genre, another drama serial, "Dastaan", aired on Hum TV was based on the novel, "Bano" written by Razia Butt. The touching drama takes us back to that time of post-partition and how people suffered from identity crisis and long-lost relations. Though it does not show the contemporary times but it does make an effort to inculcate such emotions in our youth today which our grandparents always talk about. This classic hit has won the hearts and soul of our Pakistani youth.
Dramas like "Parsa" attempts to talk about a couple from different religious backgrounds. Such dramas bring conflicts in our society as it encourages our youth today to ignore such complicated issues while considering someone for marriage. Therefore, such plots should not be promoted. On the contrary, Hum Tv dramas as "Samdhan" and "Qaid e Tanhai" have done a better job with respect to revitalization of our industry. These dramas depict our society better and help easing the stress of public as such in "Mohabbat Rooth Jaey To" a fight against obsolete customs.
The Pakistani dramas have an influx of foreign media and thus influences across border have proved to be healthy as it has produced excellent dramas overtime. Focus has been on quality of work and content rather than the quantity.