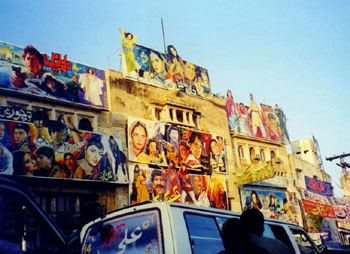 For many decades, Pakistani cinema has been seen going down into the depths of darkness and slowly, the making of Punjabi movies in Lollywood also came to an end with just a few directors working on extremely low budget films.
In fact, it was not thought good to go and watch a Pakistani movie in a Pakistani cinema due to the low standards of movies being made. But this story took a U-turn and brought a new spark of revolution in Pakistani cinema by the release of movie "Khuda Ke Liye by Shoaib Mansoor". The movie came up in the midst of times when people started to stop thinking about Pakistani cinema culture completely and relied more on Bollywood and Hollywood movies. Due to this situation of Lollywood, the barriers for Bollywood movies to come into Pakistan broke with "Taj Mahal" a Bollywood movie by Sanjay Khan featuring Sonia Jahan got released in Pakistani cinemas.
Initially, people were a bit apprehensive about being a part of Pakistani cinema culture again but the situation further improved by the establishment of latest and state-of-the-art multiplexes in cities like Lahore, Karachi and Rawalpindi which forced people to experience one of a kind fun in Pakistani cinema once again. Rawalpindi took pride in establishing Pakistan's best multiplex with five screens known as "Cinepax" which enthralls people whenever they visit it. This establishment was followed by opening of different cinemas in Lahore and Karachi which were specially designed for attracting people from socio-economic class A and B.
However, the establishment of these places was not all for Pakistani cinema culture and Pakistan needed to launch good movies from Lollywood in order to regain its lost glory. Shoaib Mansoor broke the ice and took Pakistani cinema culture by storm when he released "Khuda Ke Liye" which became a breakthrough for Lollywood. It touched the hearts of the people to depth. Its story, cinematography, songs, dialogues, photography, actors and much more left the audience spell bound and they showed hope for the future of Lollywood by the making of such movies of standard, quality and class. Many other Lollywood directors again started to make regular commercial films after "Khuda Ke Liye" in which they used talent from India in order to bring uplift in the quality of movies being made. Now people are more aware about things and they want to pay for something that has substance and quality in it. Therefore, the use of Indian talent for creating Pakistani movies proved out to be a very effective decision.
But even after a few years, Pakistani cinema needs a lot of funds and improvement in its overall standard. It will require at least 2-3 decades in order to make its mark through Lollywood movies and that too, if the directors and all the people associated with Lollywood work very hard and consistently. Pakistani cinema has certainly got a lot of potential and talent, all it needs is to have a right direction and polishing up of skills in terms of acting, singing, dancing, direction etc.
A little learning can bring marvels for the Pakistani cinema. Shoaib Mansoor is the pioneer of bringing revolution to the Pakistani cinema and he is working hard to make Lollywood and Pakistani cinema stand out on international platform with good quality of work. His upcoming movie "Bol" is surely going to be a sign of his constant struggle for Pakistani cinema and it is going to create a drastic impact on the international platform for the Pakistani cinema.