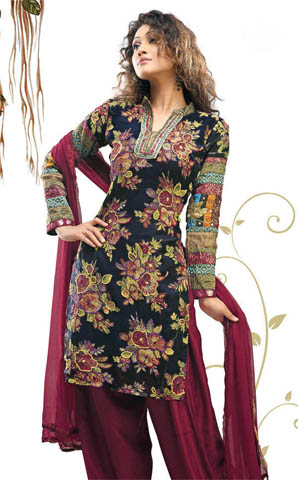 Pakistani Fashion is in no way lacking worldwide competition. Pakistani Fashion designers are successfully making their mark in fashion industry.
Even though London, Paris and New York are considered to be the hub of fashion but each and every region on the globe has its own specific fashion trends and they are equally important as they make the people fashionable in their own sense and style. Just like that, Pakistani fashion is also one of those style statements for the Pakistani people that distinguishes the culture of Pakistan and uses the essence of traditions to bring up the Pakistani fashion trends.  
With more awareness and breakdown of communication barriers between the international borders, Pakistani fashion has brought in a lot of diversity and modernism in its trends with a mix to the traditional Pakistani fashion trends. Right now, the palette of Pakistani fashion is much diversified and it caters to almost all kinds of fashion trends.
Pakistani fashion is mainly focused more on the clothing and less on other stuff like fashion accessories, shoes, bags etc. It has been through the  hard work and dedication of Pakistani fashion designers over the last two decades that now Pakistani fashion has started to create its own niche in the international fashion scene and project the work in places like New York, Paris and London.
Currently, every now and then Pakistani fashion is being projected at different national and international levels. It is a great pride for Pakistani fashion that now the Pakistani fashion industry has managed to formulate a designers' council and conducts different fashion weeks too. The recently organized Pakistani fashion weeks are the Islamabad fashion week and the PFDC Sunsilk fashion week.
Pakistani fashion is all about beautiful colors, rich textured clothes, classy embellishments and an elegant touch to finish the detailing of each and every piece of Pakistani fashion. Today, Pakistani fashion designers have stood out amongst the various international designers by competing them in every fashion category of clothing through the Pakistani fashion. The breath-taking bridal collections, prêt wear, casual wear, beach wear and much more from the Pakistani fashion industry has taken up many international runways by storm.
For summer 2011 and for the past few years, Pakistani fashion has come up with the ever increasing trend of fashion in lawn suits for summers. Many celebrities, designers, popular lawn making companies have become a part of this competition and this Pakistani fashion trend is actually getting a lot of attention from the international fashion arena too. Each year, more and more competitors are coming into this new Pakistani fashion trend and bringing up the most beautiful surprises for Pakistan. Among the major names that made an entrance in Pakistani fashion for lawn suits this year are Nomi Ansari and Khaadi.
The Pakistani fashion industry is doing a remarkable job to present Pakistan at the international platform. Today, people from abroad have actually started to realize the unique and elegant fashion from this region of the east but still due to very limited resources and a very small fashion industry, it will take time for Pakistani fashion to come at par with the international levels. But nevertheless, the hard work and dedication of the Pakistani fashion industry's people will make that possible really soon too and Pakistani fashion will be a demand of everyone and everywhere.