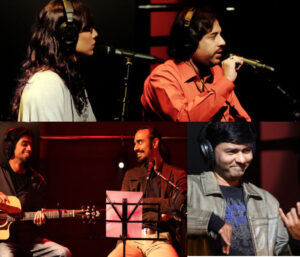 The Coke Studio journey continues with Episode 2 airing on June 05 2011, presenting a new palette of genres and artists, and conveying yet another kaleidoscopic view on the diversity of music in Pakistan. With Episode 2, expect a selection of fusion songs that pay tribute to the unique and enduring traditions of classical, folk and qawwali music, side by side with modern compositions by popular contemporary artists.
Coke Studio's second episode will feature Sajjad Ali's "Kirkir Kirkir", an up-tempo and lively modern track, with tongue-in-cheek lyrics and a rambunctious jhol on the dholak.
Episode 2 will also introduce a traditional Rajasthani song, "Senraan Ra Baairya" by classical musician Asif Hussain Samraat and Coke Studio houseband member and upcoming pop artist Zoe Viccaji. Sung in an obscure dialect Marwari, this song combines the delicate subtlety of the light classical style of thumri with contemporary accompaniment with Zoe Viccaji's ambient vocals adding an ethereal dimension to the traditional composition.
Folk legend Attaullah Khan Essakhelvi marks his Coke Studio debut with the second episode of the season, with a poignant rendition of "Ni Oothaan Waale". In a true representation of the age-old folk tradition of storytelling through song, "Ni Oothaan Waale" narrates a tragic tale of mythical lovers Sassi and Punno with Coke Studio's contemporary sound offsetting the timeless essence of Esakhelvi's voice.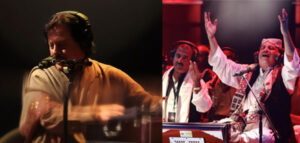 The Coke Studio platform also introduces young band Kaavish to audiences with Episode 2. This semi-classical band known for their mellow sound and sweet melodies perform their lowri "Nindiya Re", with minimalistic percussions and the feather light tonality of the xylophone. "Nindiya Re" features for the first time, drummer and houseband member Louis J. 'Gumby' Pinto on the guitars.
Lastly, Episode 2 will also present "Kangna" by the master craftsmen of Qawwali, brothers Fareed Ayaz and Abu Mohammad. "Kangna" is a Qawwali based on classical music and is rendered on Coke Studio in the Raag Malkauns, constructed on a rhythmic foundation of 10-beats per cycle, or jhap-taal.
The voyage continues as Coke Studio explores the depths of musical diversity, spiraling out to encompass the rare and unique and paying homage to Pakistani Music with each new session. Be part of this ongoing journey with Episode 2 on 05 June 2011 06:00 PM and onwards on television channels, radio stations and online, across Pakistan, with a new episode to air every fortnight!